This past weekend, Steve and I took a much-needed break. We went to a favorite inn in Vermont, and shopped at the King Arthur Flour Store, at three indie bookstores, and at two horse tack shops. I came away with excellent chocolate, a fascinating book (I love nonfiction about science that I know nothing about, written in an engaging and witty way), and a new muck tub (some women like handbags, some of us like barn tools!) I also got a bale of straw.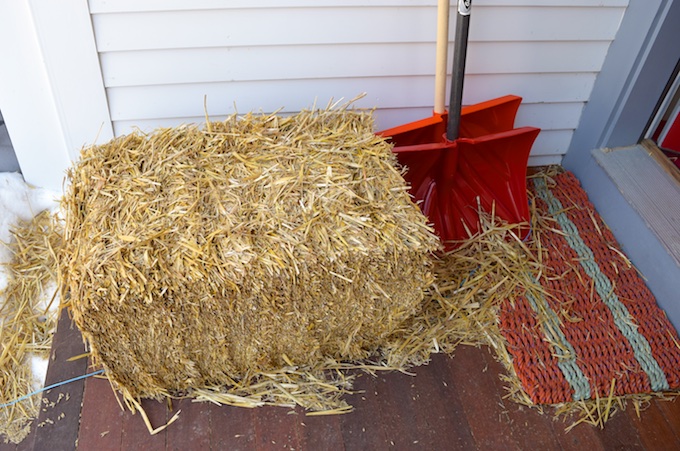 The weather on Sunday was a welcome change from the bitter cold and snow that we've been having. It was 38° F! So warm that I saw people shoveling in tee-shirts. But, the forecast was for the arctic blast to arrive in full force that night. Puddles on the ground would become sheet ice. As I expected, the path from my backdoor to the coops looked like this when we returned home on Sunday night. Smooth, hard and dangerous. Too bad I don't do the winter olympic sport of luge.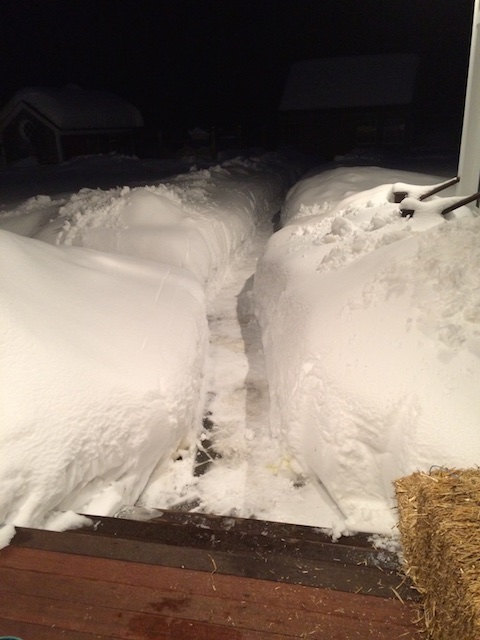 I can't put down sand or ice melt because it would ruin the lawn underneath. The straw, though, provides traction and can be raked up in the spring. Straw is made up of the tough stems of wheat. The animals don't eat it, and it is not absorbent, but it will mix in and freeze with the snow melt and provide a safe path for the next few weeks. I think that it looks rather cheerful.