Today is Scooter's eighth birthday.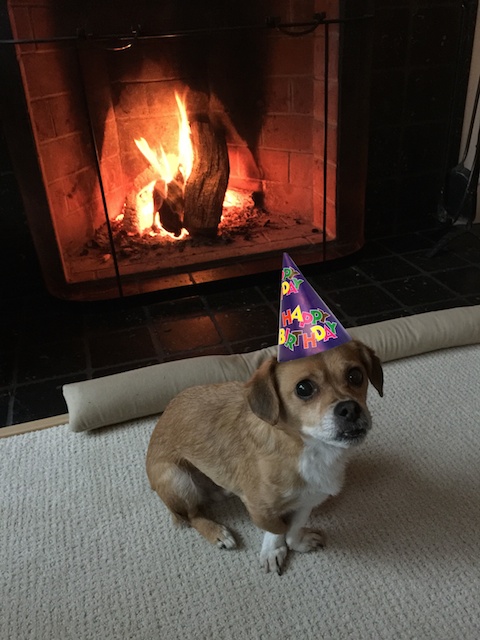 This is Scooter's expression when he is happy. Really.
He's a funny little dog.
He is a dog of very little brain. Truly. I've had him since he was 10 weeks old. Before that he was in a loving home. He's never been abused. Trained entirely with positive reinforcement. And yet…let me tell you about how he is with his leash.
Lily is a smart dog. A veritable dog genius. But, it doesn't take a brilliant dog to recognize that a leash picked up by the person indicates that a walk is imminent. Lily hears me get the leash from the basket and she whines with enthusiasm. Scooter sees me walking towards him with his leash, and he curls up on the couch and squeezes his eyes shut. His thinking is, If I can't see her, then she can't see me. I continue to approach with his harness (soft cotton, custom-made for his odd body.) He shivers. He looks more pitiful than usual. I snap it on. Lily, Scooter and I walk out the door. As soon as the door closes behind us, Scooter wags his tail with surprise and happiness. A walk! Who knew?
Eight years, and he still hasn't made the connection between the leash and the walk.
Brains aren't everything.