One of the things that we small flock keepers tout about our fresh eggs is the vibrant color of the yolks. Supermarket eggs are pale, but look at these! we say, pointing to the upstanding orange centers.
Of course, there's always more to the story. Here are two eggs.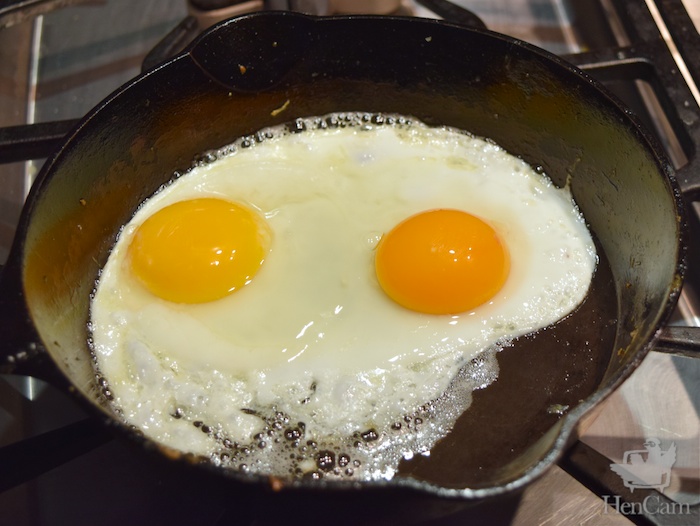 One is pale. One is deeply colorful. Both came from my flock.
The egg on the left was laid this week by Twiggy. The one on the right was also laid by Twiggy, but that one was laid ten days ago, when she had been gorging on pumpkin. Both were delicious.
Many fruits and vegetables contain carotenoids, which are orange pigments that pass right through to the yolk. They're also nutrient powerhouses. So far, research has shown that it is best to get carotenoids from your diet, not from pills. Egg yolks are a good source! The brighter the orange in the yolk, the more nutritious those eggs are. Maybe.
Industrial egg producers have caught on that consumers want dark yellow yolks, which they equate with the health of the birds and the nutrient quality of the eggs. However, those producers do not free-range their pullets and feed them pumpkins. They use supplements. I read about one source here. This is part of the article:
Whenever the market demands for more pigmented egg yolks the oxycarotenoids concentration in layer hens' feed can be increased. Oxycarotenoids present in Rubrivivax gelatinosus biomass grown in industrial wastewater have already proven their ability on enhancing yolk colour.
Only slightly more appetizing is the industry's use of paprika and marigold to color egg yolks. I feed my hens marigolds – right before the first frost I pull the plants and feed them to the hens, roots, flowers, leaves, stems and all. That's far different than feeding extracts. But now that we've had several hard frosts and even snow, there's not much growing and colorful for the hens to forage. So, I feed alfalfa. After writing this post, I think I'll splurge on another couple of pumpkins for the girls, too!