I drove out to the Percheron World Congress with much anticipation. Right there, next to the parking lot, was what I'd come to see. Massive work horses, doing what they've done for centuries – working alongside their people.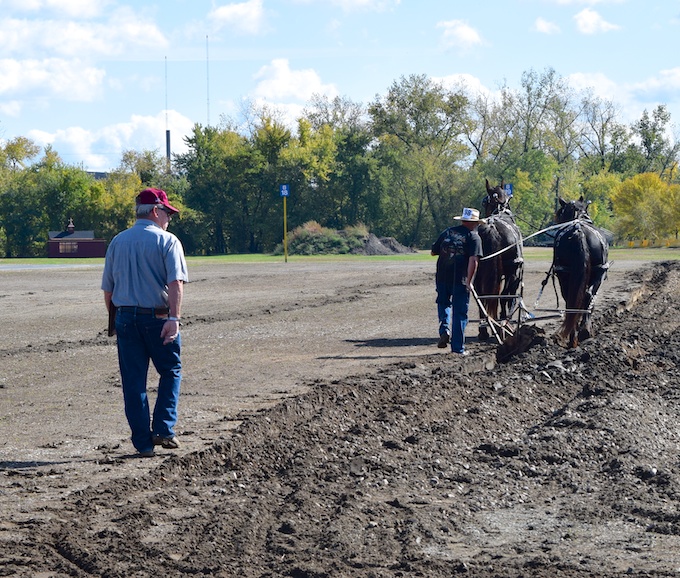 This was teamwork, both between the horses themselves,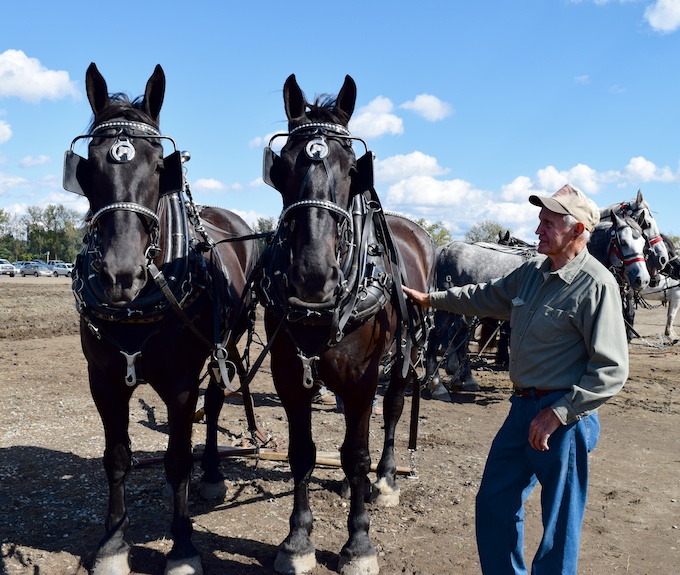 and between the animals and their plowman (and, for some, plow-woman.) One horse is the furrow horse, The other walks on the land yet to be tilled. In this competition the team is judged on how straight they go and how uniform the depth of the furrow is. Note that the reins are around the man's neck. The horses respond to voice cues, only rarely does the plowman tug on a rein.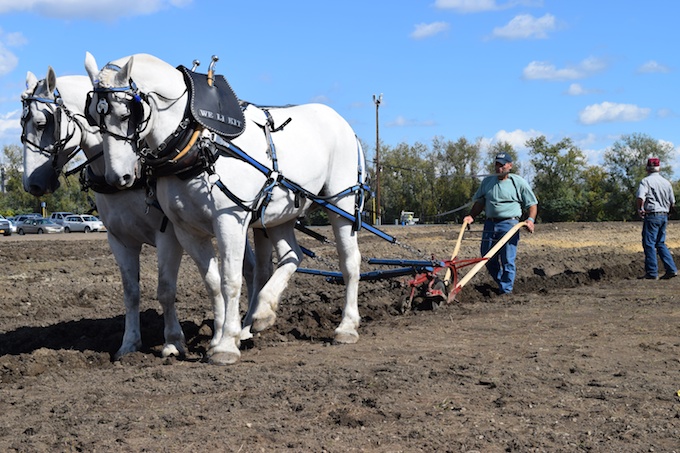 I chatted with some of the plowmen and women, and spectators. It was a small group. Wives told me that this is what their husbands do for fun. None of these horses are necessary for their farms (although I did see some Mennonites, and perhaps they relied more on horsepower.) But, the horses do seem to be necessary for their hearts. It's a day in, day out, commitment of time and resources. Folks joked about it, but no one regretted it.
These horses are huge, but their temperaments are calm. They have to be, to have the patience to stand in a field. There was a lot of affection shown between the horses and people.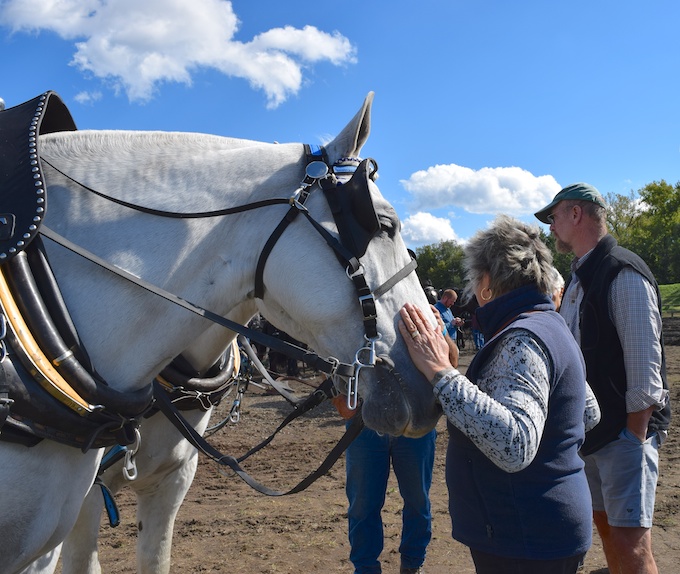 After watching the plowing contest, I went into the Coliseum to see the show horses. These horses were even more massive. Here is a champion stallion.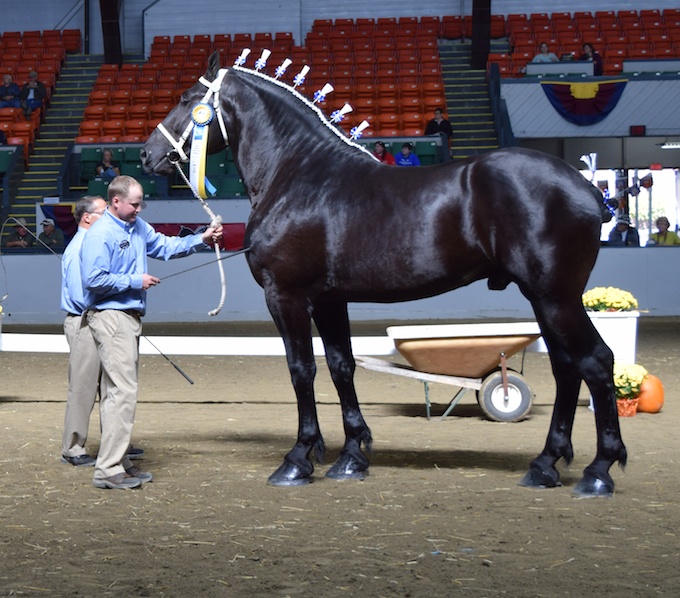 At first glance, these gleaming, polished animals are glorious. The show horses are from a lineage used to pull heavy carriages, and to go at a trot for long distances. But, these days the distance traveled is more likely around a ring in front of a judge. LIke so many show animals, (purebred dogs come to mind) these Percherons have been bred for extreme looks and movement.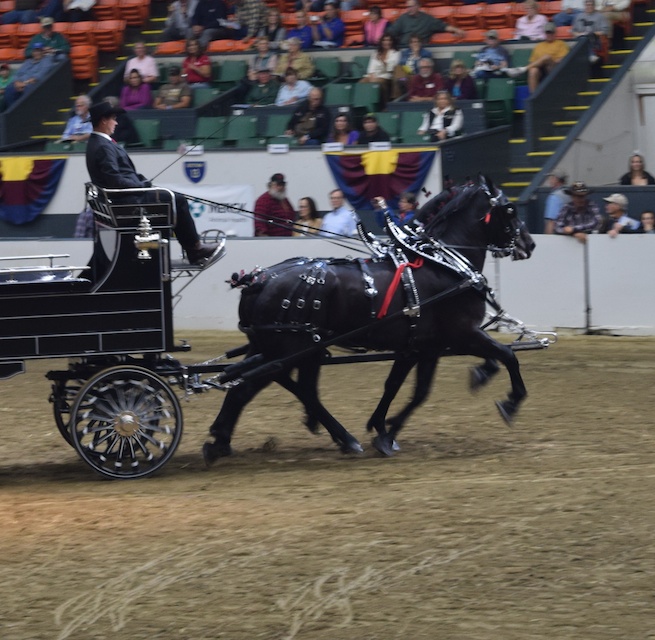 Spectacular. But, look closely.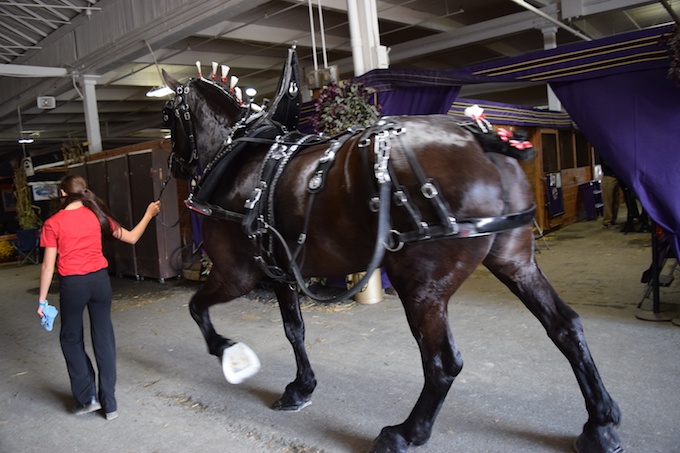 The hooves are grown out, as large as they can go, to the point that they crack and have to be filled in with putty.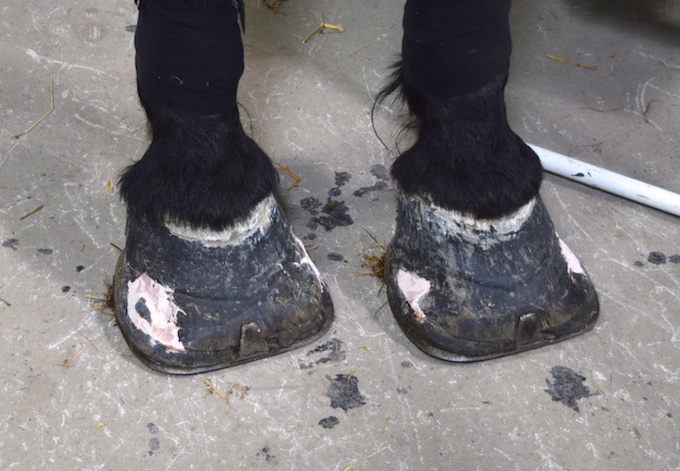 The shoes are weighted. This is what causes that fancy action. Polish hides only so much.
For comparison, here are the feet of a Percheron plow horse. As big as dinner plates, but natural in shape. Tonka weighs 1,000 pounds less, but this is how he is shod.
The shoeing isn't the only way to get the flashy action in the show ring. For in-hand classes, whips are waved at the horses, scaring them into erect posture and pricked ears. This is the antithesis of what the plowmen want. (As an aside, you can train alert, arched posture using positive reinforcement. No threats necessary.)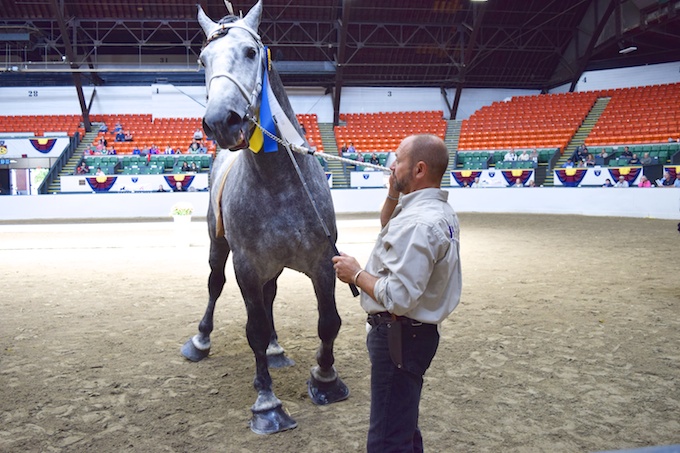 Check reins are used to hold the heads up. See that strap going through the mouth and up towards the ears? It has no purpose except to create an upright carriage.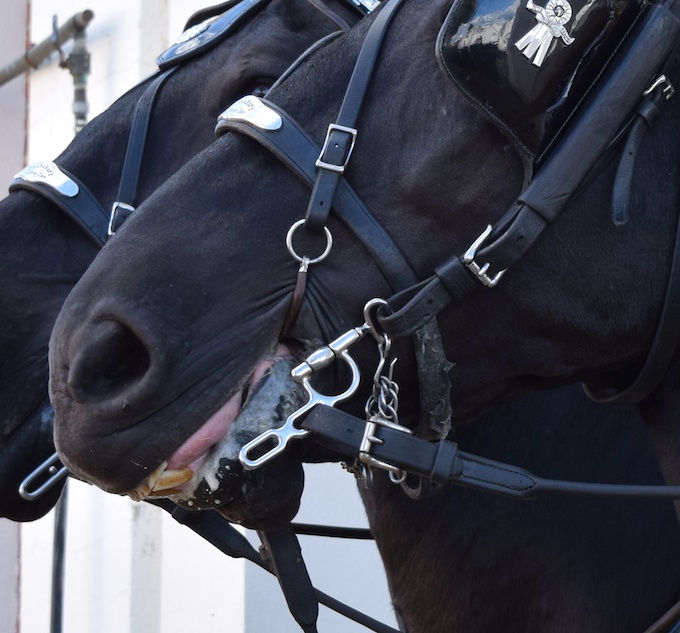 Once my eyes saw what was going on under the all of the flashiness, it was hard to watch.
There were a few carriage teams that did not buy into the saddlebred look. Those horses had naturally-shaped hooves, and even had full tails (Percherons usually have docked tails – most of the tail, including the bone – is cut off – which means they can't flick flies. Supposedly this is done to keep the tails from getting tangled in harness but it is unnecessary and cruel.) None of those teams won ribbons.
So, I went back outside to watch the plow horses.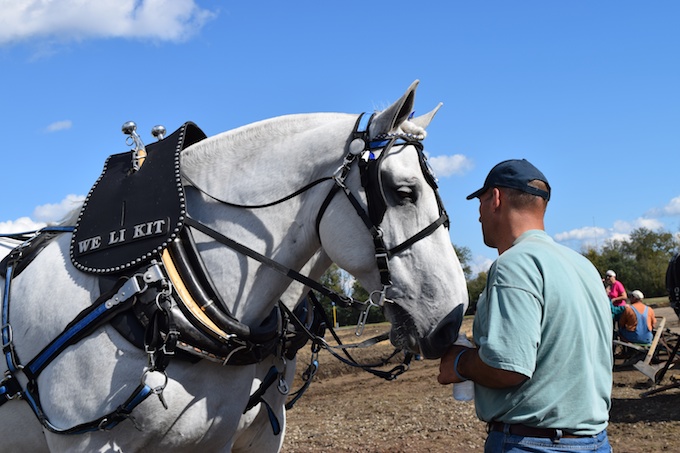 Authentic. Worth preserving.