Later today I'll be bringing a hen to an after-school program to teach the students about chickens and eggs. Selecting the right hen for the event takes some thought. Not every chook can do the job.
Betsy was a superlative school visit hen. She is small, and so non-threatening. She'd perch on my arm and let child after child stroke her back. But, at the age of seven, Betsy has more than earned her retirement.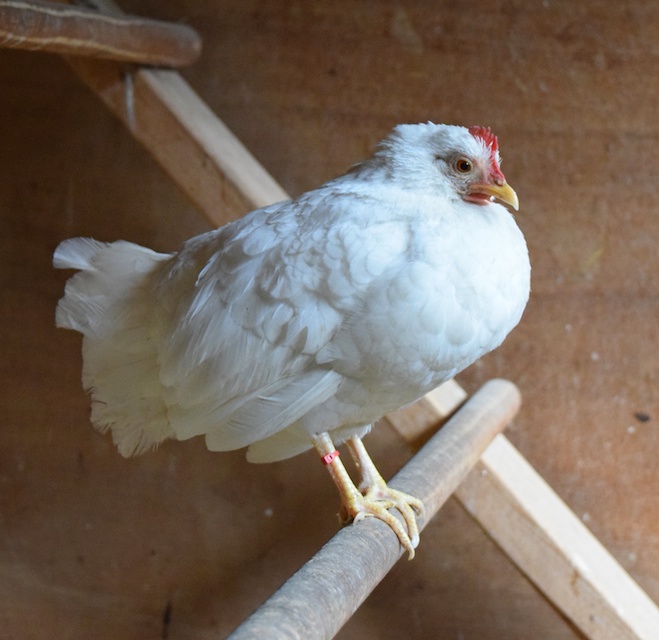 During my program, I show the children the vent that the egg comes out of. It'd be easy to illustrate this with Agatha, who is halfway through her molt and so has lost her butt feathers. However, this hen does not like to leave home and her friends. I don't take chickens that stress out on visits;  Agatha will not be showing off her red bottom.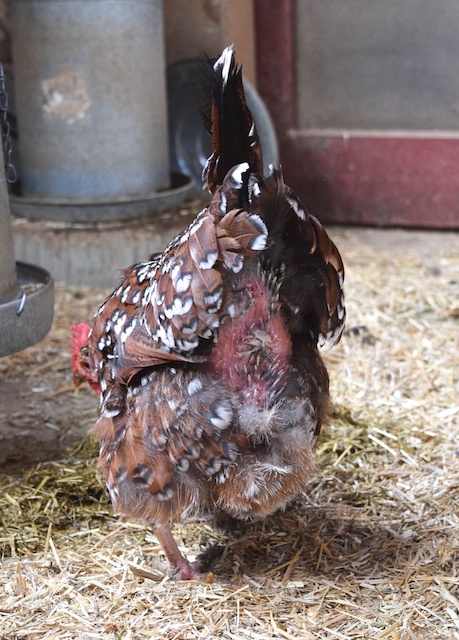 Amber is fine in the travel crate and patient with children. I might take her, if she lays her egg before we leave. But if she hasn't laid yet (and she has been laying in the afternoon lately) then she'll stay home. It's very worrisome for a hen to need to lay an egg and not have a familiar nest box to go into.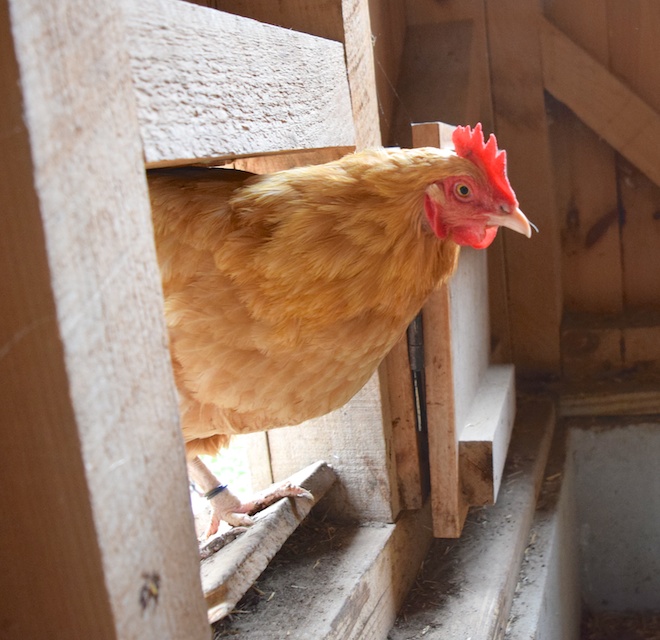 Lately, Beatrix has been my go-to school visit hen. She has laid an egg this morning, and so I might just take her. By the way, that's her "I'm laying an egg" glare. Beatrix looks far more pleasant when she is out and about.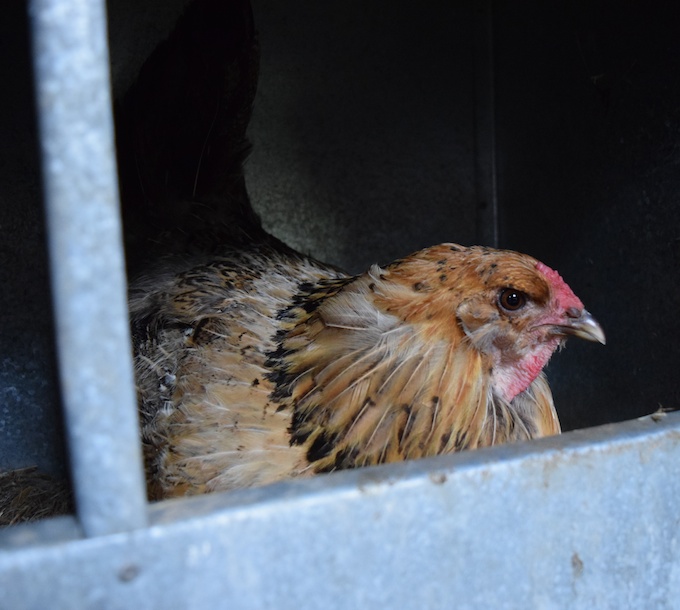 Then again, it might be fun to take Veronica. She's quite vocal, and chatters away while I try to teach, which the kids love. Veronica would also be a good example of what the molt is.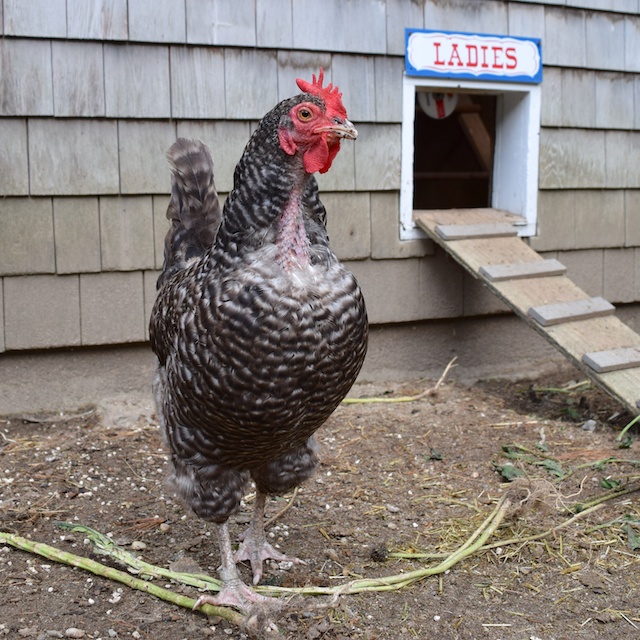 Or maybe I should take a classic hen. Nancy Drew would do.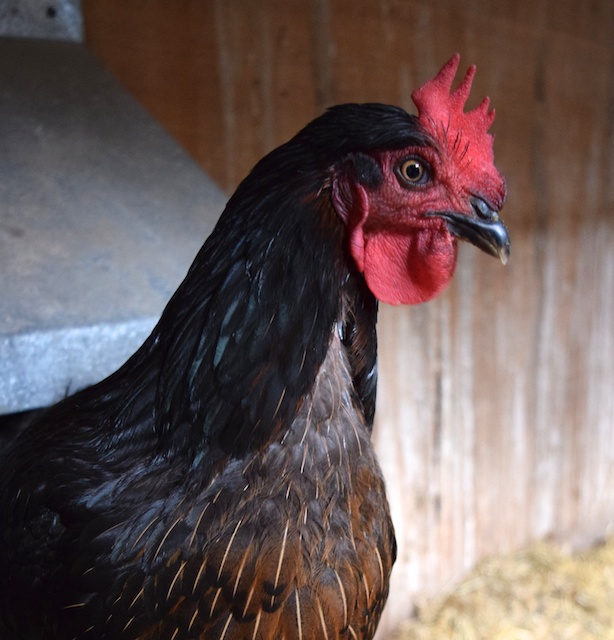 I bet that the students would be happy if I left the chickens at home and brought Phoebe. (That's not going to happen!)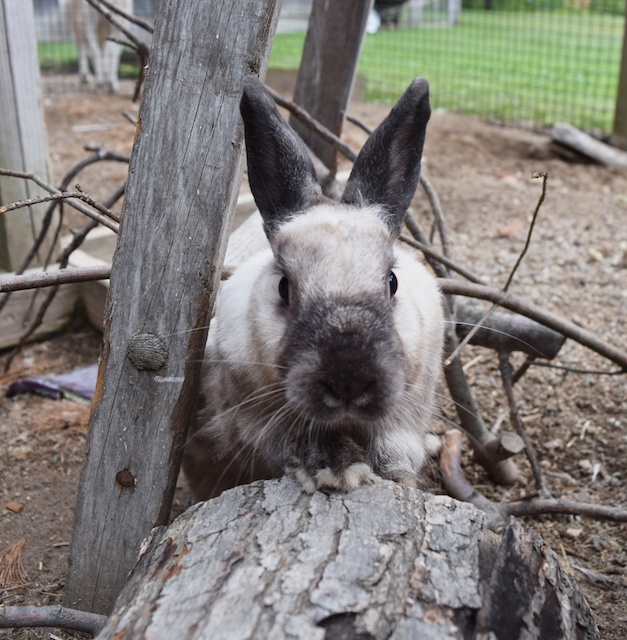 Later this afternoon, I'll post on Facebook which hen gets an outing. If you don't follow me, that's okay. You can simply click on the FB icon below to see my feed.
Speaking of events – I'll be at  Let's Talk About Food in Boston on September 27, and you can still sign up for the Chicken Keeping Workshop or the Advanced Workshop (taking place here in my backyard) on September 28.