The nesting boxes are clean and inviting. The hens are trained to roost and not sleep where they lay. And yet, even so, once  in awhile I see this.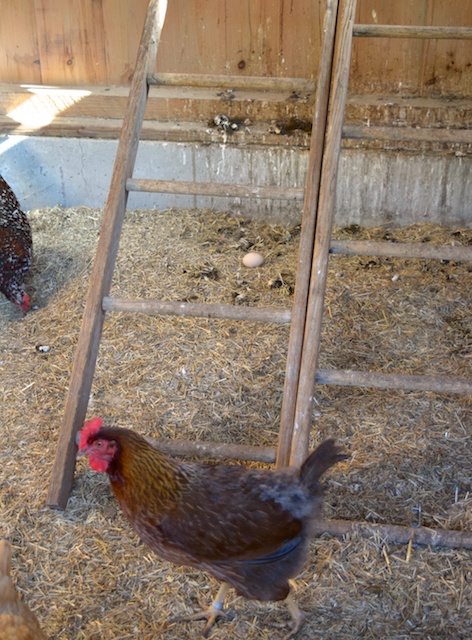 An egg on the floor. Often, it's under the roost. I know it wasn't laid when the hens were sleeping. First of all, hens don't lay eggs at night. Secondly, there's no way an egg could survive intact from a drop from the top bar of the roost.
This is something that you want to keep to a minimum. This photo shows three days of manure accumulation. An egg sitting in those feces is more susceptible to picking up bacteria than one laid in a dry and clean nest. It's also liable to be stepped on and broken, and then it will be eaten by the hens, and then they'll learn to peck at and eat eggs. Egg laying on the floor of the coop (or sometimes, you'll see an egg outside in the dirt) is something that you want to prevent. To do that, it helps to know why this is happening. Like so much with hen keeping, that comes down to experience, knowing your flock, and guesswork.
The first thing to ask yourself is: are the nesting boxes still inviting? As the seasons change and the light comes into the coop at a different angle, all of a sudden they might be too bright. Or, is there a predator keeping the hens out of the nesting boxes? I've heard of both snakes and opossums moving in. None of those possibilities are the case in my barn. Then, take awhile to observe your birds. Is someone sick? Has the flock dynamic changed so that a hen isn't feeling welcome in the boxes? All of my hens are fine. Take a look at the egg. Is there something off about it? When a hen lays a thin-shelled or soft egg, it can be difficult for her to push it out. She's uncomfortable, and I've seen hens walk around until finally able to lay. The eggs that I've recently found on the floor are solid, but I've noticed that these eggs tend to have a dull texture, as if they have no bloom (which is a protein coating that give the egg its shine and protects it from germs.). The bloom makes the egg very smooth and tough and eases laying. Without that, perhaps the hen had a difficult time laying and was straining too hard to stay put in the nesting box.
Although thin-shelled eggs are often due to diet or old age (or both) that's not the case with my flock. In fact, the eleven hens in the Big Barn have been high producers of quality eggs. I've been collecting anywhere from seven to ten eggs daily from them. Because it takes more than twenty-four hours to lay an egg (upwards of twenty-six or more), over the course of the week, the hens lay later and later in the day, until they are laying an hour or so before dusk. Usually what happens is when the cycle gets too late in the evening, then the hen skips that day, and then lays first thing in the morning. Sometimes though, she gets on the roost and realizes that she can't wait, jumps down, lays her egg, and hops back up and goes to sleep. Sometimes she makes it through the night and as soon as she wakes up, she lays her egg right when she hits the ground. This is my best guess for why I've found an egg now and then on the floor of the coop. But I could be wrong. I found the remnants of a broken soft-shelled egg in the nesting box this morning. I'll be keeping an eye on things.