The riding ring at the stable where I board Tonka is buried under a foot of snow. There's a 1/3 mile dirt track around the farm, and most of that has been too dangerously icy to ride on. There is though, one stretch that has thawed and frozen, and thawed again, and so once a week or so, I tack up Tonka and walk up and down that section.
But, the other day the conditions were just right. There had been two days of good weather and the ice melted. Then it got cold and the mud froze. I got on. We walked around the entire track, and then we trotted.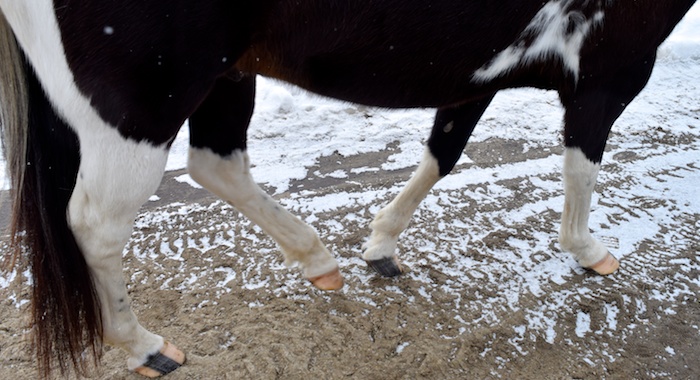 I felt ridiculously happy. Something more than just sitting in the saddle had triggered that feeling of elation. As Tonka and I trotted along the path, I realized what it was. It was something that I was hearing:
Clip-clop, clip-clop.
Tonka's hooves, striking the solid ground rung out.
Clip-clop, clip-clop.
You might think that you always hear that sound when riding a horse. It's how riding is described in storybooks. But, in reality, the ground is muddy, or grassy, or too rocky. It takes just the right conditions to hear a true clip-clop. A what you imagine it sounds like to be on a horse clip-clop is a rare sound, indeed.
I've ridden for most of my life, but for most of my life I was also going deaf. Many years ago I heard that clip-clop on the few rare occasions I had to trot on a paved road (never done for any length of time as it is hard on the horse's legs.) It's been ages since hearing that, and in the last two decades, I couldn't hear my horse's footfalls no matter where they fell.
As I went deaf, many sounds receded into vague memories or were entirely lost to me. I am now hearing again (thanks to cochlear implants – read that story here) and so, when I heard that clip-clop ring out so true, so cadenced, so like a childhood dream of being on a horse, it was entirely unexpected.
Having sound return to my world with CIs is not like putting on a pair of glasses and all of a sudden seeing. The brain has to relearn how to hear. Clarity comes with practice. Some sounds aren't there, and then they are. Some sounds are rare, and the brain has to work to recognize them. But some sounds, like the clip-clop of a horse, go right through the ear and the brain, and right into the heart.