I can't start the day without  a real breakfast. If all I have is a donut picked up at a drive through, I'm edgy and hungry in an hour. I need the protein of my morning eggs, and along with that some carbs.  Although toast is good, I'm quite fond of muffins. However, most breakfast pastries are too sugary and too rich for me, so I've been perfecting a Not Too Sweet Breakfast Muffin. I've made them with whole wheat flour and nuts so that I'm satisfied all morning. I sweeten the muffins with honey for complexity of flavor. Honey is tricky to bake with – recipes burn easily and the crumb (a baker's term for texture) is hard to get right. Also, pastries made with honey stale quickly, so any muffins not eaten on the first day should be frozen. (I store them in a zip bag, and remove one at a time, and warm up in the microwave.) But, I love the flavor that honey brings to these muffins. Just be sure to buy local honey. Supermarket brands often originate from China, are adulterated, and have high levels of pesticides. I'm fortunate that there are beekeepers right here in my town.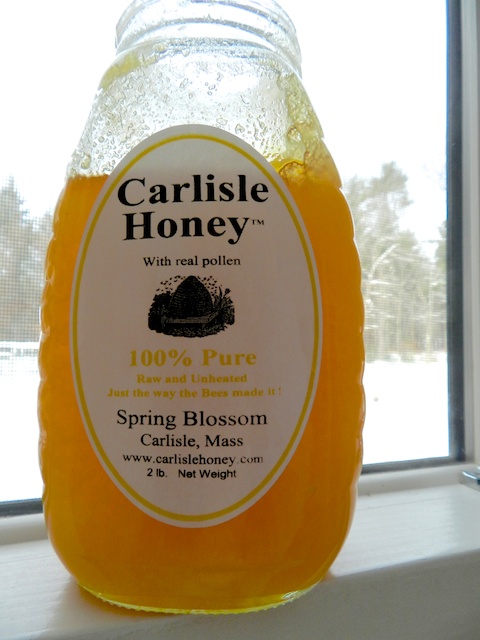 Not Too Sweet Breakfast Muffins
2 cups                whole wheat flour
2 teaspoons      baking soda
1/2 teaspoon    baking powder
1/2 teaspoon    cinnamon
1/4 teaspoon    kosher salt
1/2 cup (1 stick)              butter, softened to room temperature
1/2 cup               honey
1/4 cup               sugar
1 cup                  buttermilk
2                          eggs
1/2 cup               chopped nuts
1/2 cup               raisins or chopped dried fruit
1. Preheat the oven to 350º F. Coat a 12- cup muffin tin with nonstick spray.
2. Combine the dry ingredients and stir until all is thoroughly combined.
3. Beat the butter, honey and sugar until smooth. (If using a stand mixer, use the paddle.) Beat in the buttermilk and eggs.
4. Beat in the dry ingredients until just combined (over-beating will make the muffins tough.) Stir in the nuts and dried fruit.
5. Fill the muffin cups with the batter. (I use an ice cream scoop for this task.)
6. Bake for about 25 minutes, until the muffins spring back to the touch.