Buffy had been ailing for a long time. Hens rarely die peacefully in their sleep, so I knew that it would be up to me to decide if Buffy was suffering. That's a very difficult thing to do. Old hens often slow down and you don't realize that they're not eating and drinking until they've been starving. I didn't want that to happen to Buffy.
In November, she was still able to dirt bathe in the sun.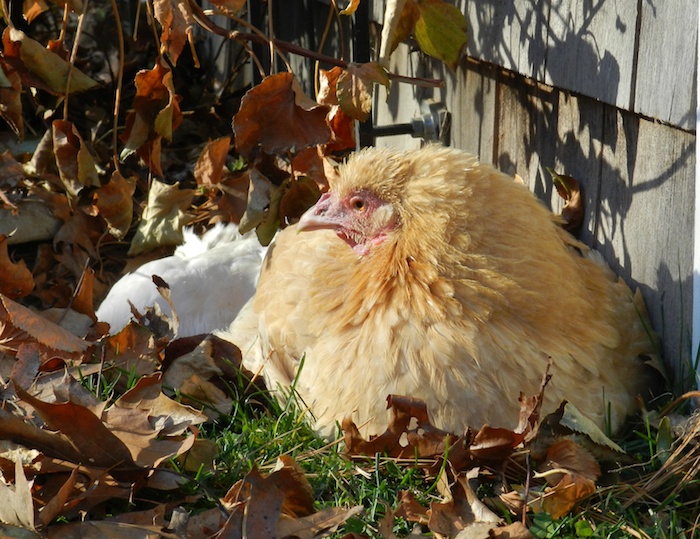 But by December, she didn't have the strength in her legs to walk in and out of the coop. Although Buffy spent most of her days resting in the corner of the barn, each morning she stood up to get her special treat of hulled sunflower seeds and corn that I set down on the ground near her. She walked over the the waterer. Because she was spending so much time in one place, and had no energy to dust bathe, I checked her bottom to make sure it wasn't packed with manure. I dusted her with louse powder. But, by the last week of December, she was no longer standing up to eat her food. She didn't drink. Alasdair Maclean, the poet, describes this perfectly in his poem, Hen Dying:
She doesn't visit the feed any more.
I lay some grain in front of her
whenever I come across her,
She rummages through her mind,
slowly remembering how to eat.
Buffy was done. Steve did the difficult task of euthanizing her. (He does a quick neck break, learned from a book. I'm sorry that I don't have a video to share with you, as at some point, you'll have to do this too, if you keep hens.)
As with all of my hens that pass on, I did a necropsy. Over the years, Buffy had survived several bouts of respiratory disease, a mysterious paralysis, and on-going weakness in her legs. I'd expected to see horrible things inside of her, as I had seen in my other old hens. I was surprised not to find any tumors or obvious infection. Like many old hens, she had a solidified egg in her body cavity, likely from an episode of internal laying. Her intestinal tract was discolored, and looked like it hadn't been functioning well. I checked for internal parasites. There were none. My best guess is that she simply died of old age.
Buffy had 7 1/2 good years.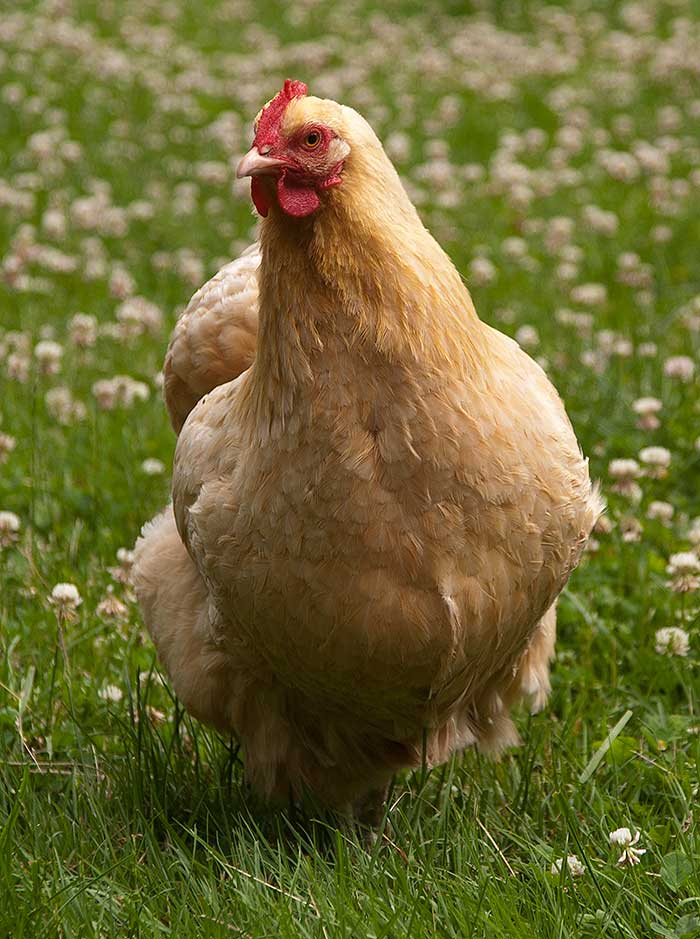 Followers of HenCam get attached to my chickens, some hens more than others. Buffy captured your hearts. Over the years, I've pondered why that was. She was a basic Buff Orpington, pretty and golden, fluffy and placid, But, I've had other hens like that. Why her? Perhaps it was how often she overcame seemingly terminal illnesses. She had more lives than a cat. But, that wasn't it either, as she had fans who never knew of her life and medical history. I think that she connected with you because she had a personality of stoic calm. She seemed like someone who would be your steady best friend.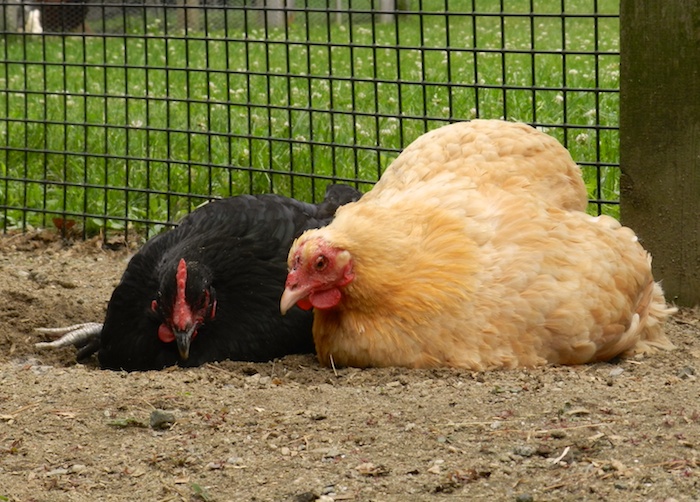 The other hens have gone on with their lives. It's as if Buffy was never there. But we know she was.