Beauty might be only skin – or shell – deep, but the truth is that we do care about it. I have beauty criteria when selecting what chicken breed to get. I look at plumage and the color of their eggs. For some time now, I've wanted one of those dark chocolate-colored eggs in my basket, and for that I decided to get a cuckoo Marans. This is a breed that originated in France, and it was only a couple of years ago that it was put onto the American Poultry Association's list of recognized breeds. Being derived from French, no one seems to agree on how to spell or pronounce it. Is one chicken a Maran or a Marans? Silent S or pronounced? I've seen it officially both ways. I'm saying Marans. This time.
In any event, I got a cuckoo variety (which is a term for the slate gray striped feathering). My one Marans is named Veronica. Typical of this breed, she matured late and is not a prolific layer. I've been watching and waiting for that chocolate egg. Nothing. Of the six Ladies in the Little Barn, two lay blue eggs, two white, and two brown. Nancy Drew, the Black Star, lays a pale brown egg. Sometimes. She's supposed to be a good layer, but she's not. Sometimes her eggs are thin-shelled. There are days that she doesn't lay at all, but I've occasionally found a light brown egg in the nesting box. I assumed that it was hers.
But on Sunday, this was in my egg basket: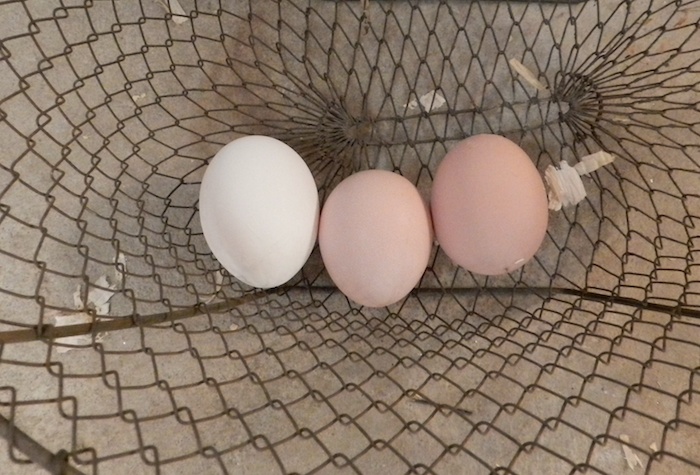 The dull white egg is Misty's, and the middle egg is Nancy's. So, the only other hen that could possibly lay that brown egg on the right is Veronica. There's a chance that her eggs will get darker, but I doubt it. Oh, well, I do like having Veronica in the flock. I'm partial to big, classic laying hens, and she is that. Veronica is chatty and calm. Here she is with Owly. Owly is not steady or calm. She is looking up (which is a trait specific to Owly and in all of my years of chicken keeping, I've never had such a quirky hen.)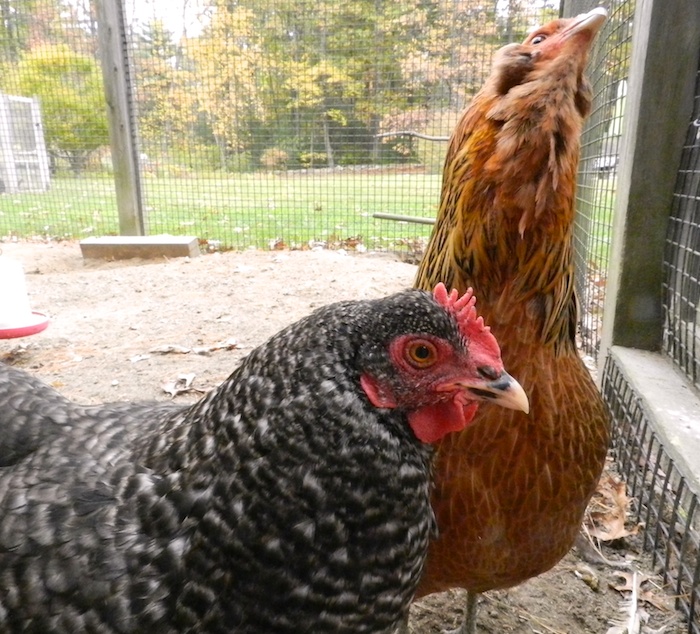 Veronica is steadfast. That's a good thing when there are hens like Twiggy and Owly in the mix.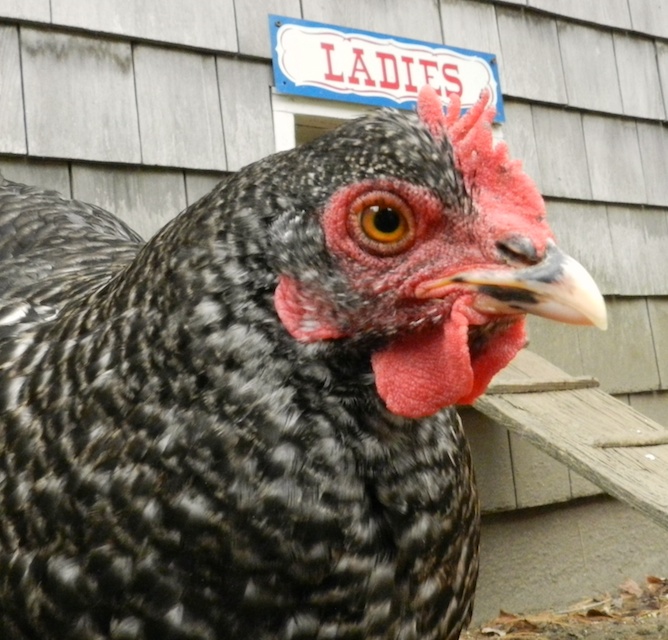 I think that if I want chocolate eggs, I'll have to buy Cadbury's.