I thought that you would probably like to see how I got the goats to wear their costumes and look so angelic.
I'm a pretty decent animal trainer. I readied myself with a sliced banana, a food that they love but get rarely. When I train, I tell them when they've done what I want with a sound marker – a clicker – which enables me to communicate with precision. I slipped the clicker (that I have attached to a bracelet) onto my wrist. I brought the props and the treats into the barn. The goats are always excited to see me. They're always optimistic that something good, or at least interesting is going to happen.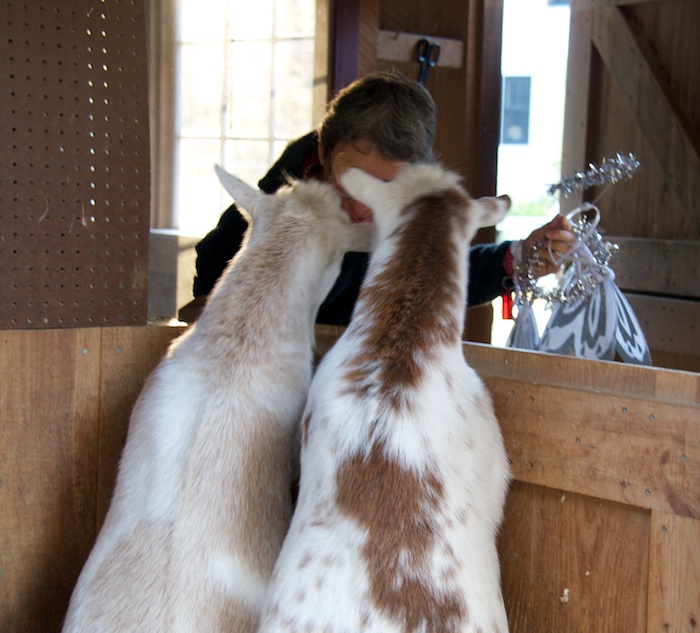 However, to be a really good animal trainer you must think through every, small step. Perhaps I hadn't had enough coffee. Perhaps I was being a tad casual about this. I had carried the bananas out to the barn in a plastic bowl, which I set down onto a fence post while I organized the costumes. I turned my back on the goats.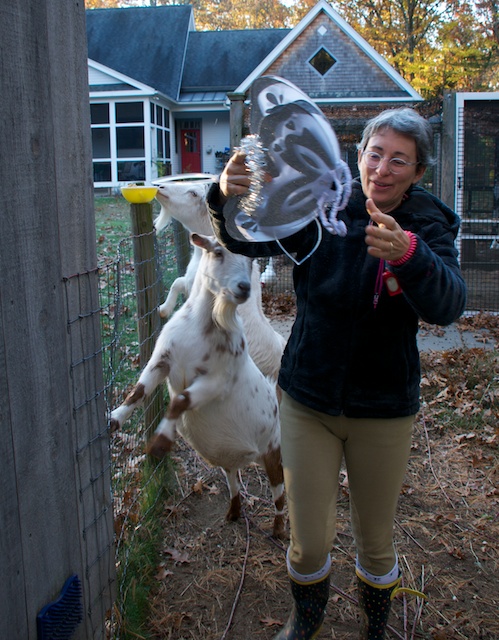 Pip tipped it onto the other side of the fence. As the saying goes, Close, but no banana. Given the opportunity, he won't make that mistake again.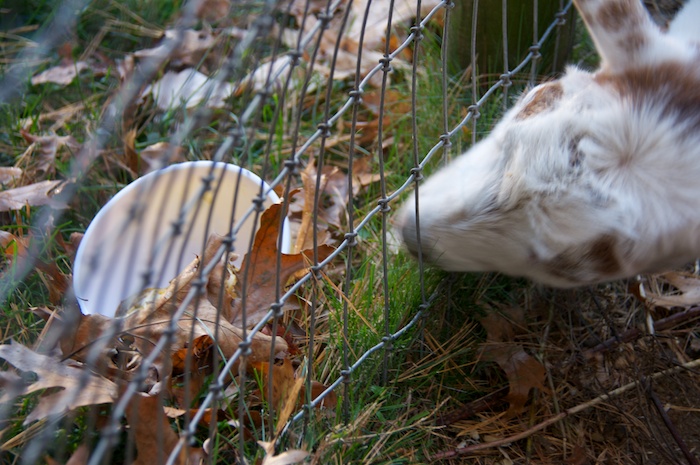 The halos were surprisingly easy to get on the goats. I rewarded the boys for wearing them and they didn't seem to mind.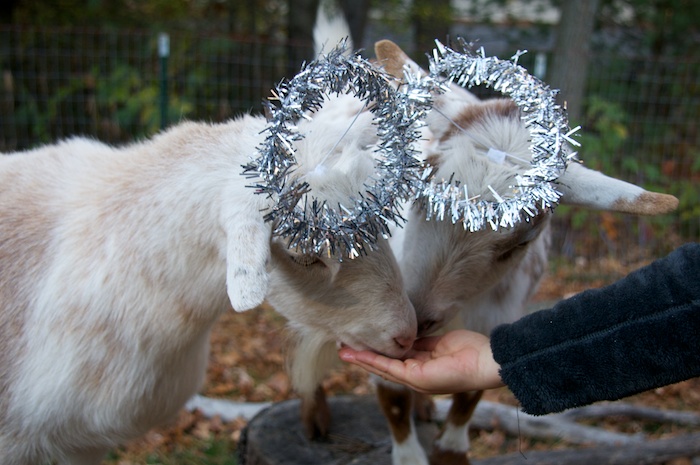 However, at one point Caper was wearing both halos. I have no idea how that happened. He didn't get double treats.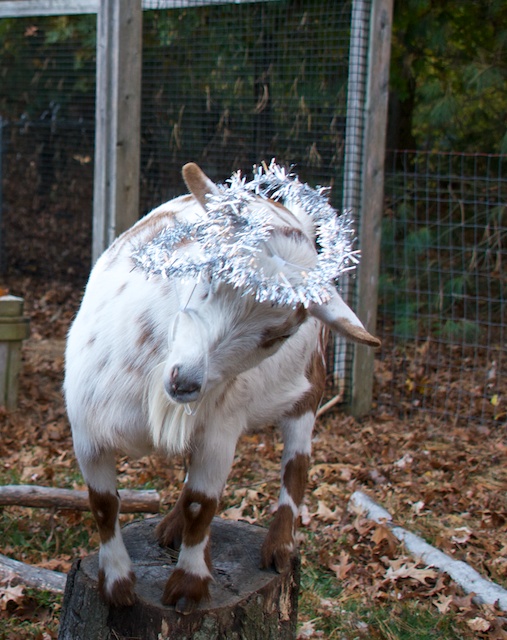 The next step was to get the wings on. Once again, the goats were enthusiastic.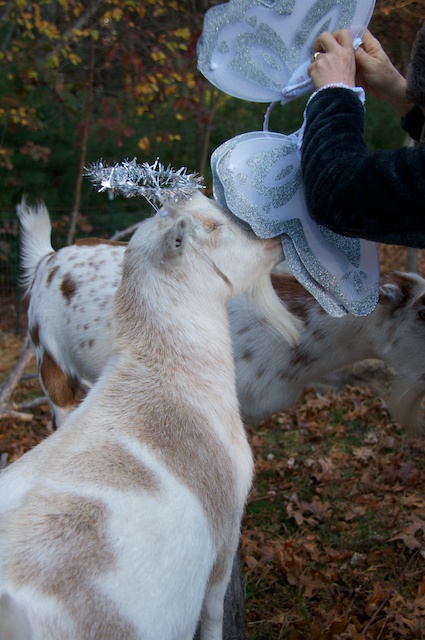 Before the photo shoot, I hadn't actually checked to see if the wings fit. As it turned out, the elastic straps didn't stretch as far as I had thought they would (perhaps I underestimated the boys' rotundity?) The best that I could do was to lay the wings onto their backs, which was not the look that I was going for.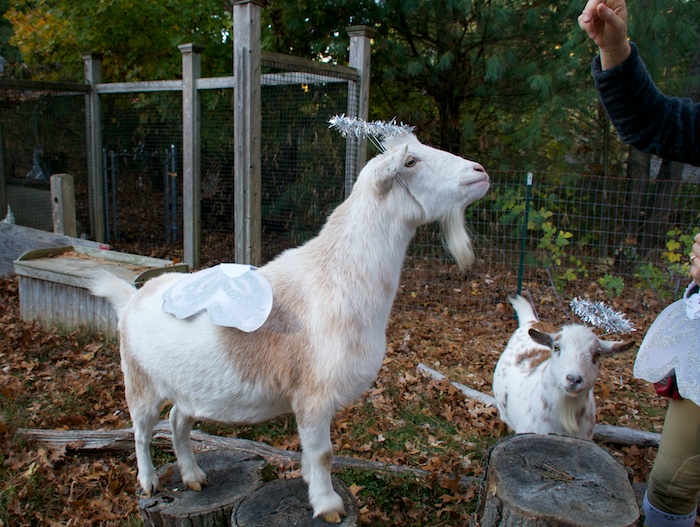 Their was a brief moment when all of the stars aligned and wings and halos were on, but it didn't last.
Besides, having their wings on required me to hover over the angels, which marred the angelic goat image that I was trying to get. (By the way, notice that one "angel" has his nose in the treat bag.)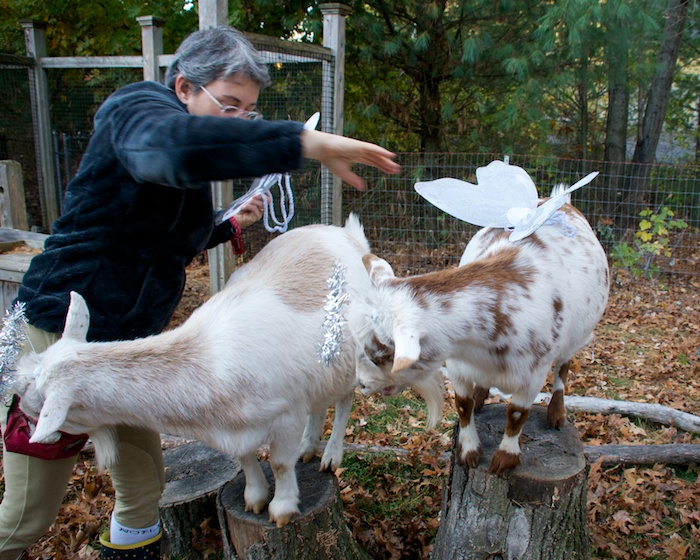 In the end, I decided that a photograph of the goats wearing only the halos was as angelic as I could get. A better trainer (and elastics that fit the goats' bellies) would have been able to get them fully winged. But, who cares? We all had fun.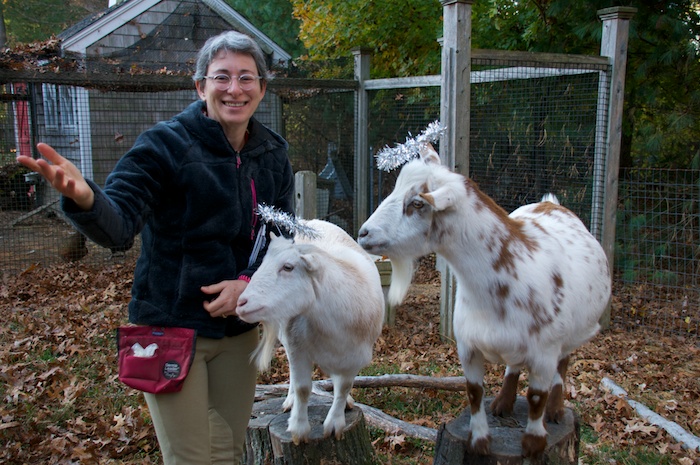 (If you missed it, the Angelic Goats photograph is in yesterday's post.)