There's no better way to spend a fall day in New England than to go to an agricultural fair. Steve and I spent our 21st wedding anniversary at the biggest fair in this region, appropriately named the The Big E (E is for Exposition.) This extravaganza is crowded with things I'm not interested in: the midway, the booths selling sham-wow towels, and the B-list entertainers. But, under the commercialism and the glitz, at its heart, the Big E remains true to its farming roots. In fact, we were there as guests, because Steve entered a photography contest for the Massachusetts Agriculture Calendar. His shot of a neighbor's beef cattle is the October page! (Stay tuned to this website. They still have last year's calendar up, but 2014 will be for sale soon.) We attended a ceremony at the Massachusetts State Building, listened to a few bureaucrats (ones that actually do good work!) and a politician, were handed a gift bag and a calendar, and then we had the day to roam the grounds.
Although thousands of people go to the Big E for the fried snacks and ferris wheel, scores end up entranced at the chick hatchery. For many people, this is their only chance to see live chickens. 2880 eggs are hatched during the two weeks of the fair, so there is always a chick or two to watch tumbling out of an egg. Kudos to the FFA for sponsoring this small corner of magic at the fair.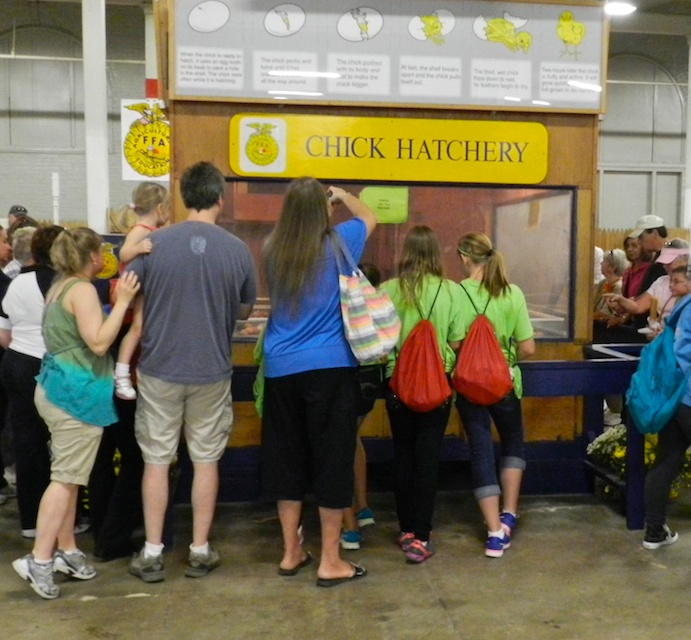 We stopped at a demonstration of sheepdog work – it's easier to show this in a small space using ducks!  I could spend all day watching Indian Runner ducks running back and forth like fussy waiters in tuxedos.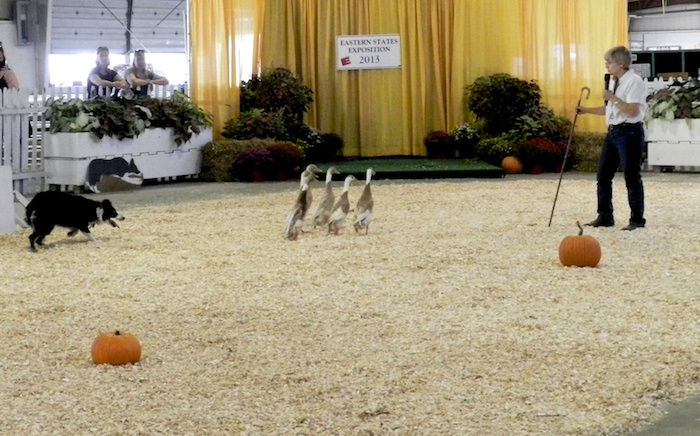 Animals were getting cleaned up for showing. This cow wasn't going to stay white for long. The handler had a good sense of humor about it.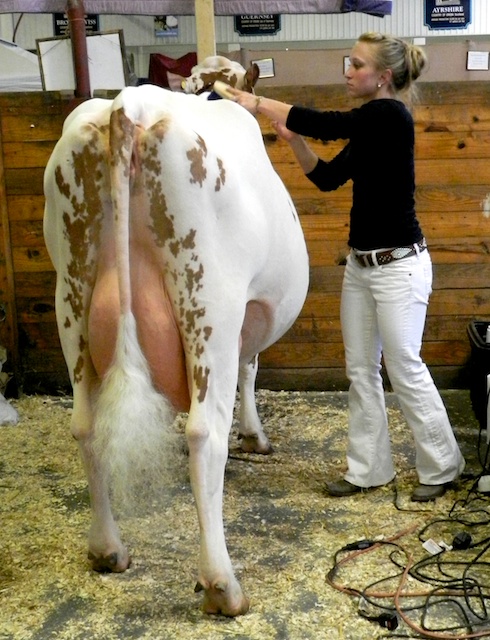 This ram was not yet groomed. He was nonchalant about all of the hubbub around him.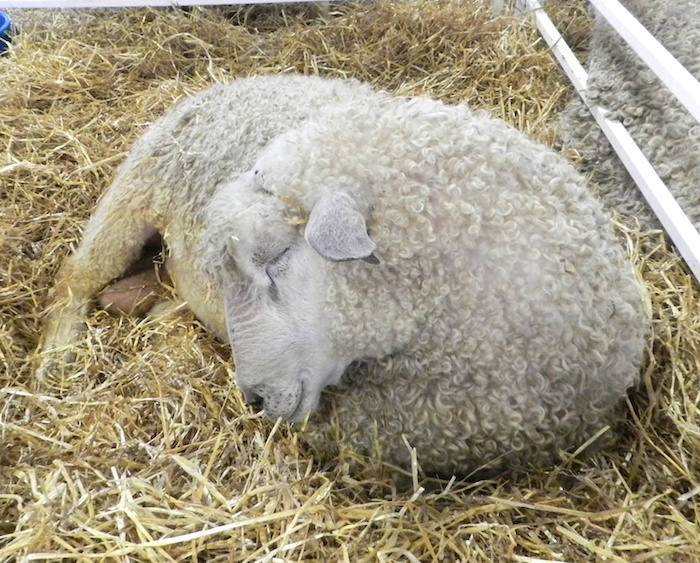 Commadore, a Clydesdale who is part of the 8-horse Hallamore team, was also quite relaxed.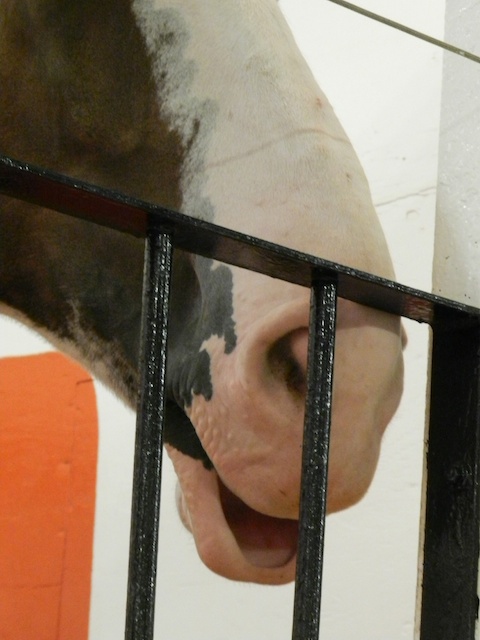 He was a gentleman while getting harnessed in front of the public.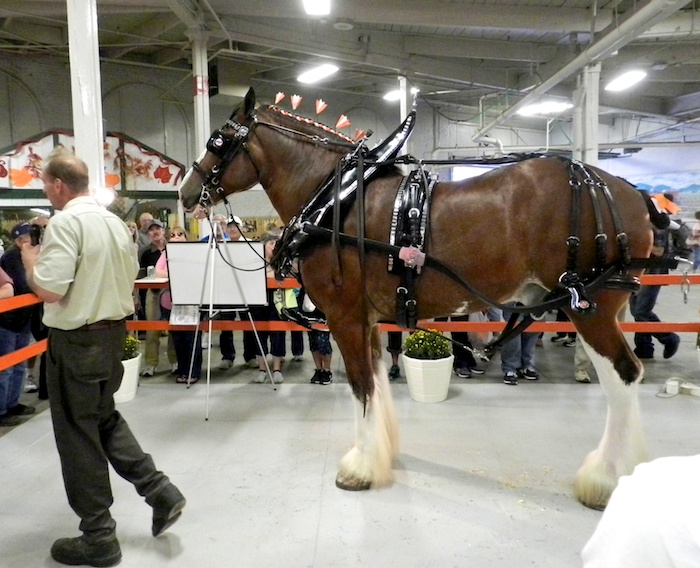 Just look at the size of those hooves!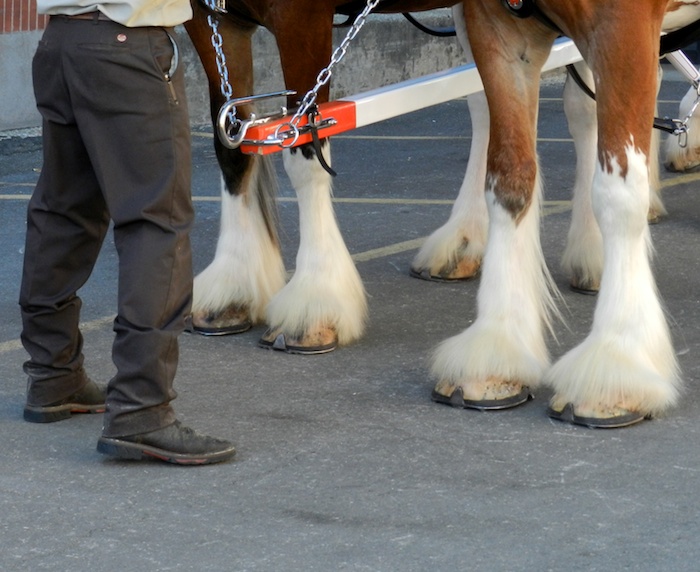 It takes a long time to hitch up eight horses that are six feet tall at the withers and weigh 2200 pounds each. We watched for a long time, but then moved on, because there were pigs to see (also, you'll note, relaxed.)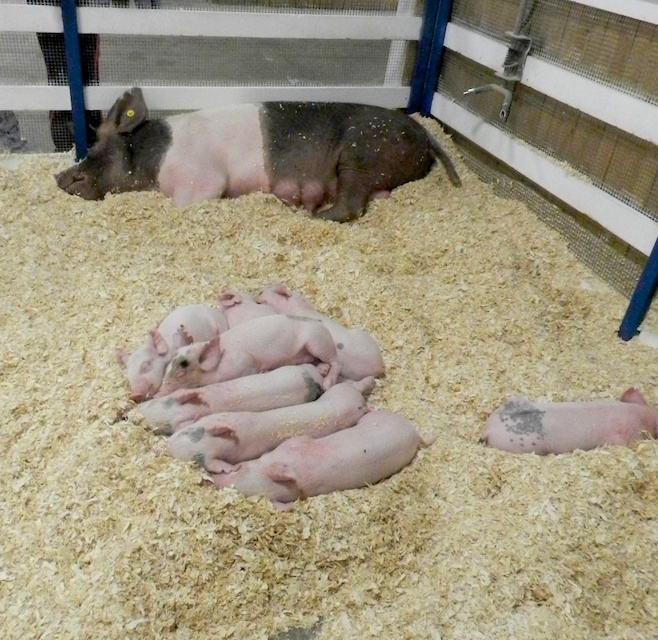 There were displays of crochet, photography and decorated pumpkins. I was quite taken with this gourd, painted like birch bark and carved into a birdhouse.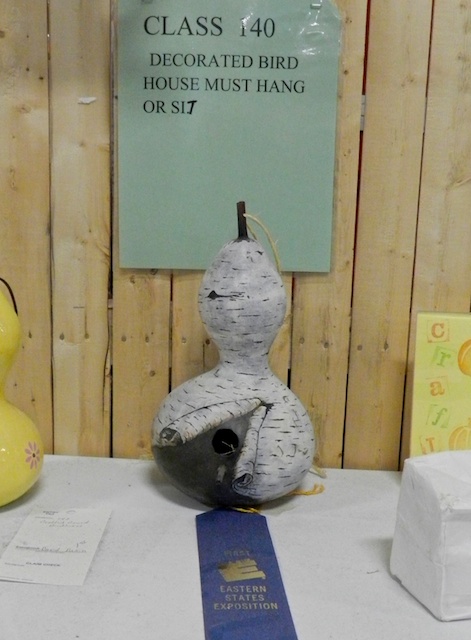 I  skipped the booths peddling jewelry made in China, but I did go shopping. I came home with a pair of cowboy boots, and goat milk soap, bought directly from the farmer.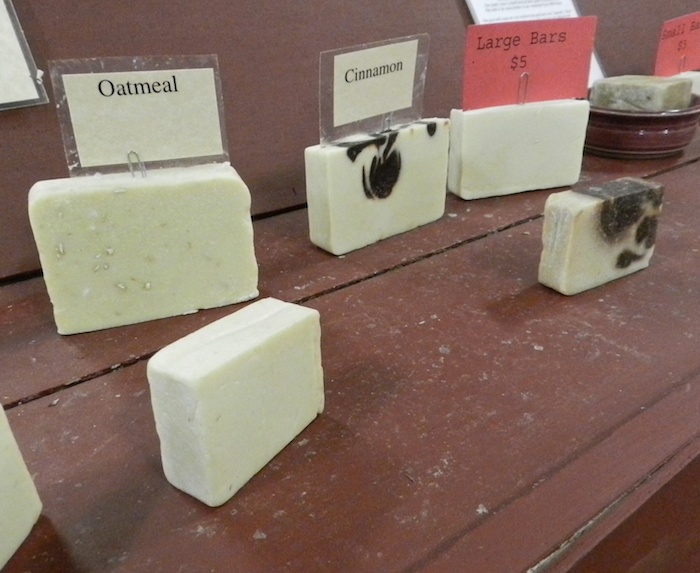 Of course, everywhere we went there there were opportunities to eat fried food. Honestly, it didn't look very good. What was delicious was the big, perfectly baked potato filled with New England butter and sour cream that I bought in the Maine State Building. That was delicious.
I hope that you get out to a fair soon. Tell me about it!