UPDATE: This contest is closed. Cheryl (with the two border collies) won.
I've been friends with Lauren Scheuer since before her book, Once Upon a Flock, was just a gleam in her eye. So, I was more than delighted when Lauren asked me to be on her blog tour to celebrate the book's publication. There were so many things that we could talk about. Chickens! Writing!
Instead of those on-subject topics, my spot on the blog tour is about my goats. Because Lauren and I are friends. Because her wonderful book will sell itself. Because Lauren decided that my goats need enrichment. Her daughter had been learning about how elephants that lived in zoos were kept busy. Perhaps we could do something similar for the oh so rotund (so, obviously not active enough) goat boys? We scheduled a visit.
We also planned on sitting and chatting over coffee and something sweet. I baked gingerbread. I tried a new recipe. It was awful. The chickens are always delighted at my kitchen failures. So, they were very happy that Lauren was visiting. (There, I got the requisite chicken photo in.)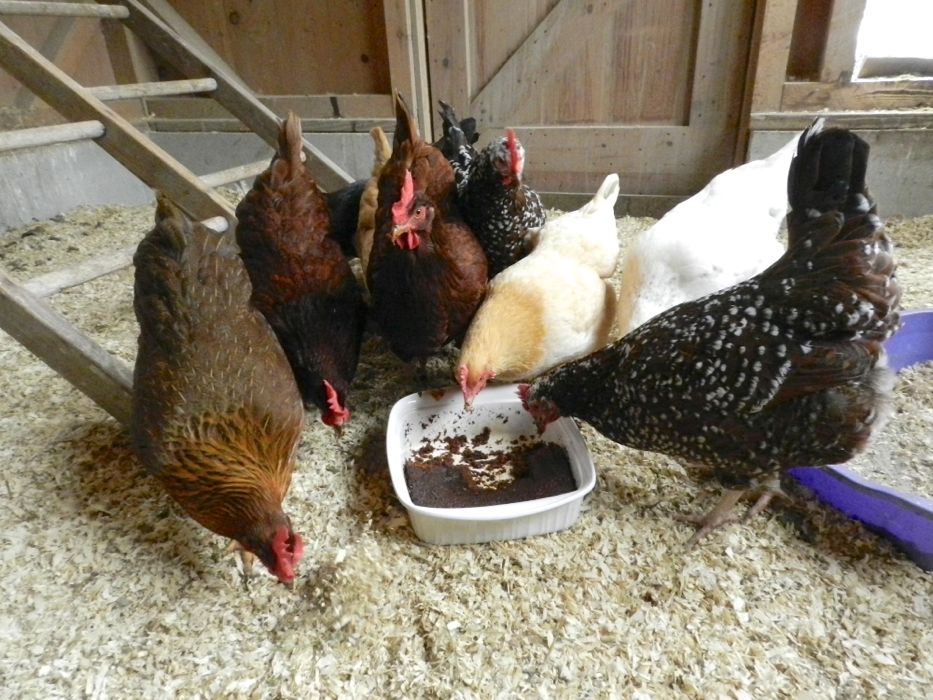 If you're familiar with Lauren's blog, Scratch and Peck, then you've played the game, "Find Marky." Her dog has a way of blending intro the scenery. We played the game here. Find Marky! (And Lily, too!)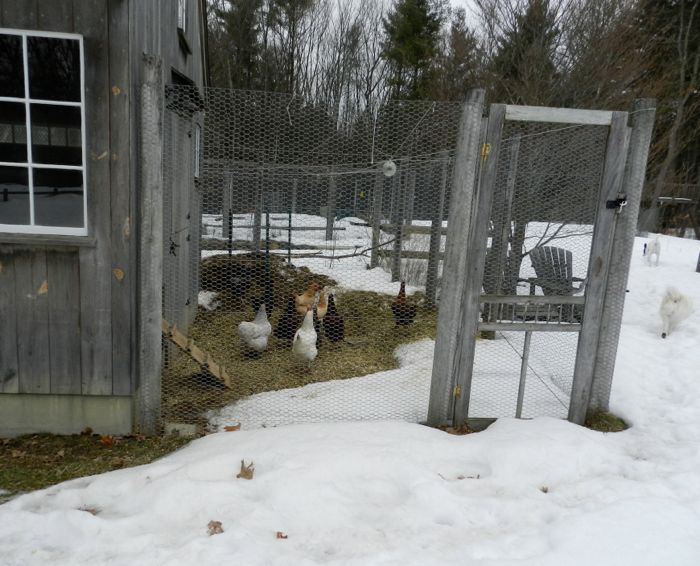 Lauren told me that elephants are given cardboard boxes filled with hay. Opening the boxes and then eating the hay keeps the elephants occupied.
She filled a goat-sized box with hay.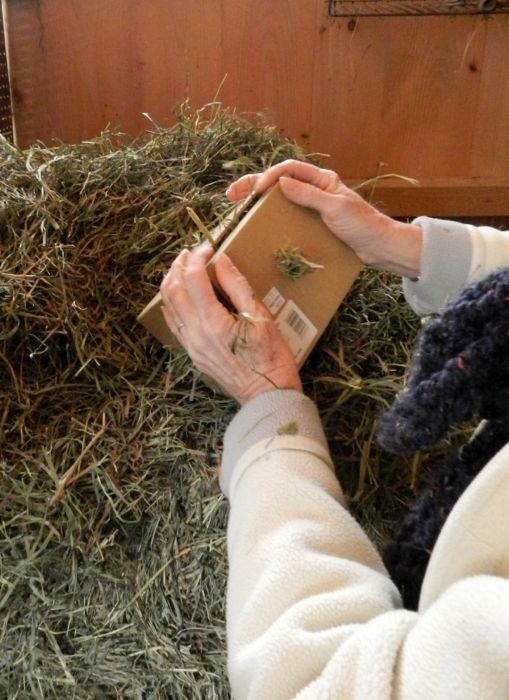 The goats were occupied with watching her.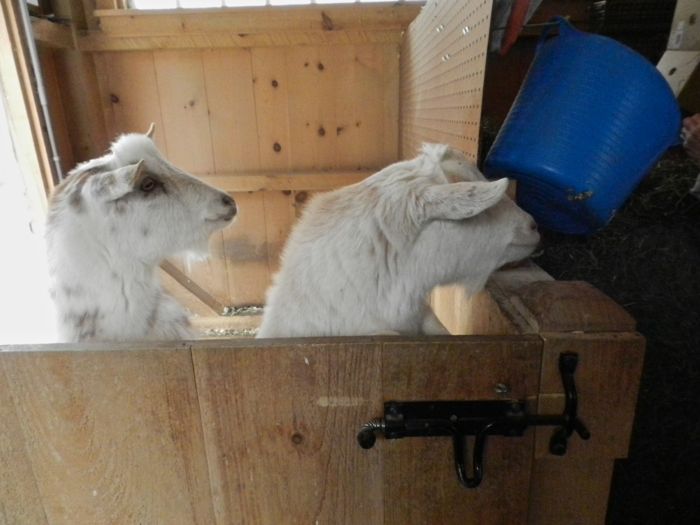 She gave the box to the goats. It took only a few minutes for them to eat all of the hay.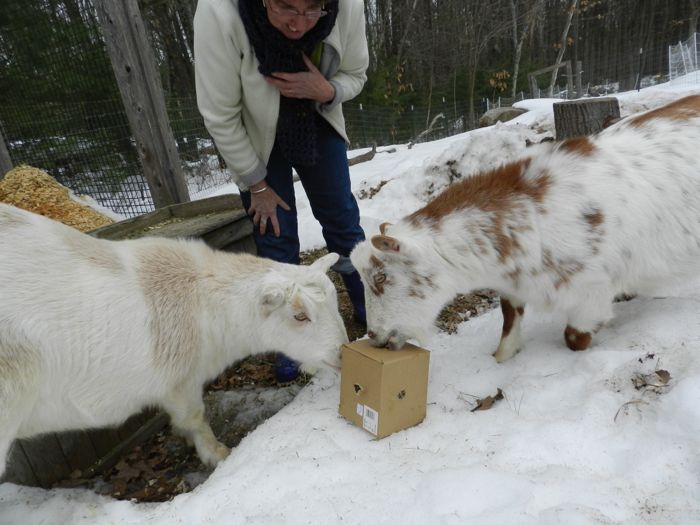 Pip was occupied watching Lauren take photos.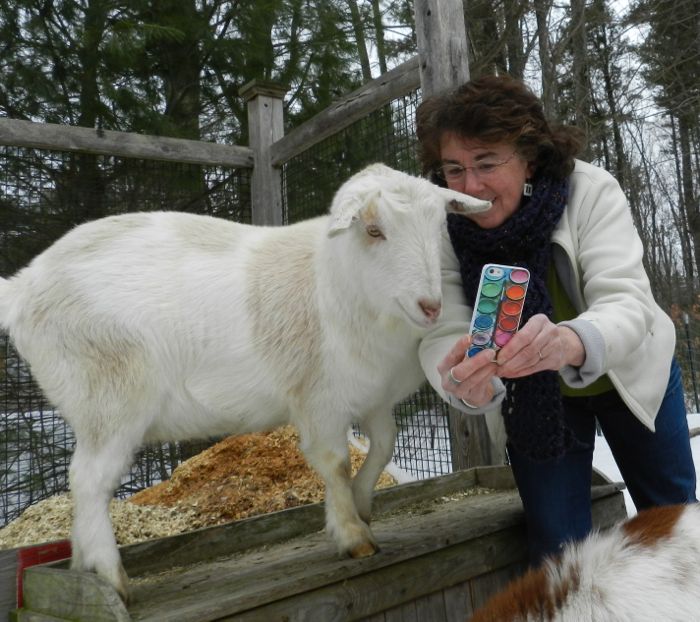 Clearly, the boys needed something more than a cardboard box to keep them busy. Lauren had something else up her sleeve. It involved using power tools. Lauren loves working with power tools.
Caper does, too.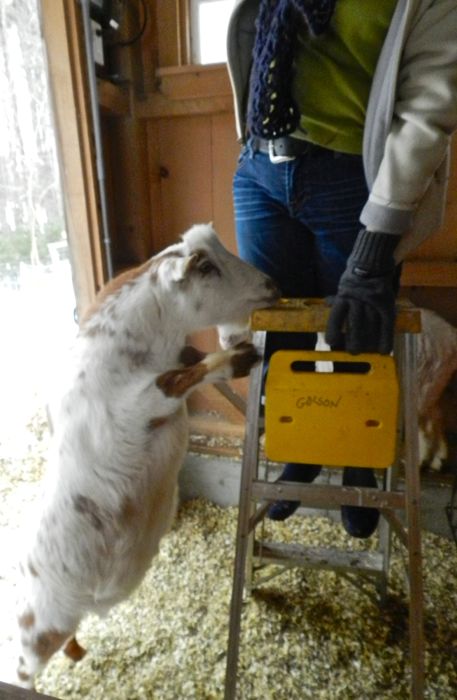 Lauren and I designed a treat dispenser for the goats, which she hung. It's made from a couple of old dog toys that Lily doesn't like.
Filled with carrots, the goats like it very much.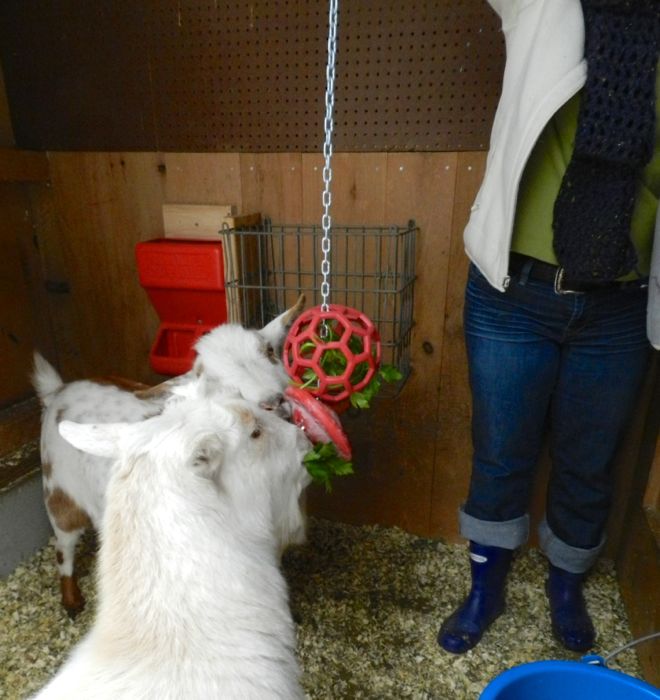 But, like the cardboard box, the treats didn't last long.
Truly, the best part of the enrichment that Lauren brought was herself. The boys didn't want her to leave. Come back, Lauren!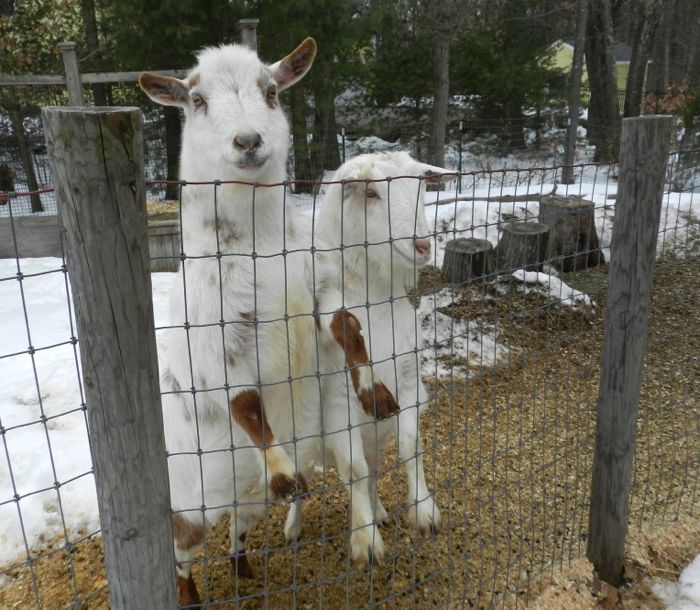 Lauren and I were tired from enriching the goats' lives. We had coffee and some good cookies (from a box.)
Lily was tired, too. She'd had an enriching day with Marky.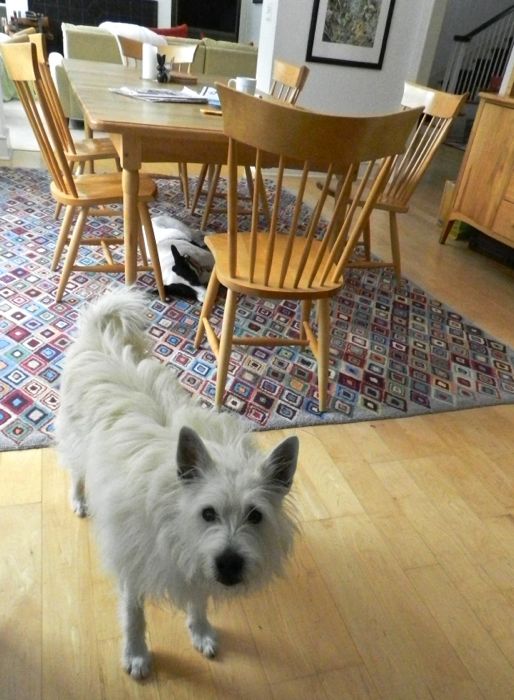 So, now that you know nothing about Lauren's book, it is time for a giveaway!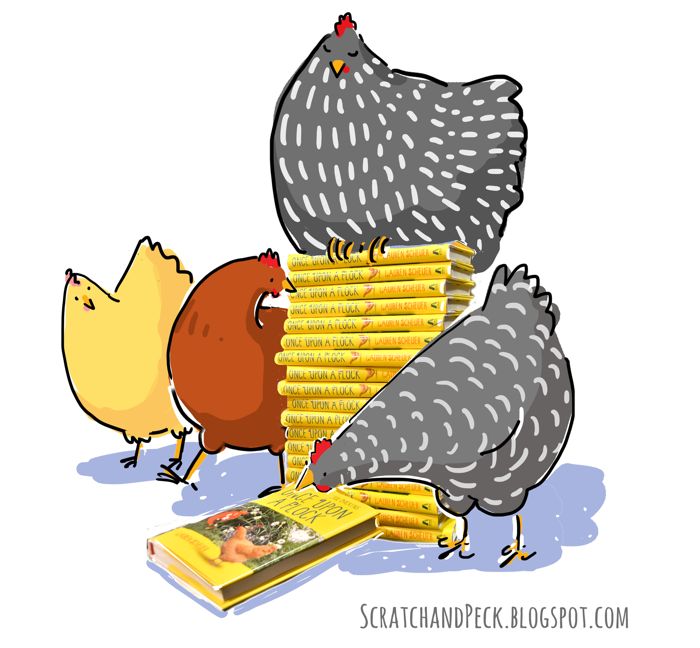 Leave a comment below, and I'll select a winner using a random number generator. The contest closes on Friday, March 22 at 10 pm EDT. United States addresses only, please, as the book is being shipped by the publisher.
A book will be given away at each stop on the blog tour, so go to these URLs for more chances to win:
Tuesday, March 19: Melissa Caughey, Tilly's Nest
Wednesday, March 20: Terry Golson, HenCam
Thursday, March 21st: Kathy Mormio, The Chicken Chick
Thursday, March 21st: Kylee Baumle, Our Little Acre
Friday, March 22nd: Tammy Barani, Our Neck of the Woods
Monday March 25th: Wendy Thomas, Lessons Learned from the Flock
Tuesday, March 26th: Lisa Steele, Fresh Eggs Daily
Wednesday, March 27th: Amy Stewart, Garden Rant