Thank you for your thoughtful and loving comments about Candy. What comes through is that you knew her. You understood that she was demanding, crotchety, sociable, curious and imperious. She had a wicked sense of humor, but was never mean. You knew this because Candy lived a life where she was able to express who she was. You knew her because you paid attention. You knew her because you didn't want her to be anything other than what she was.
It's a message that I try to get across subtly, sideways through the stories that I write about my animals. But, let me be blatant here. Candy lived where she could fully express who she was. She had an interesting environment that changed through the seasons. She had other animals to interact with. She had human caregivers who were kind and consistent in their interactions with her.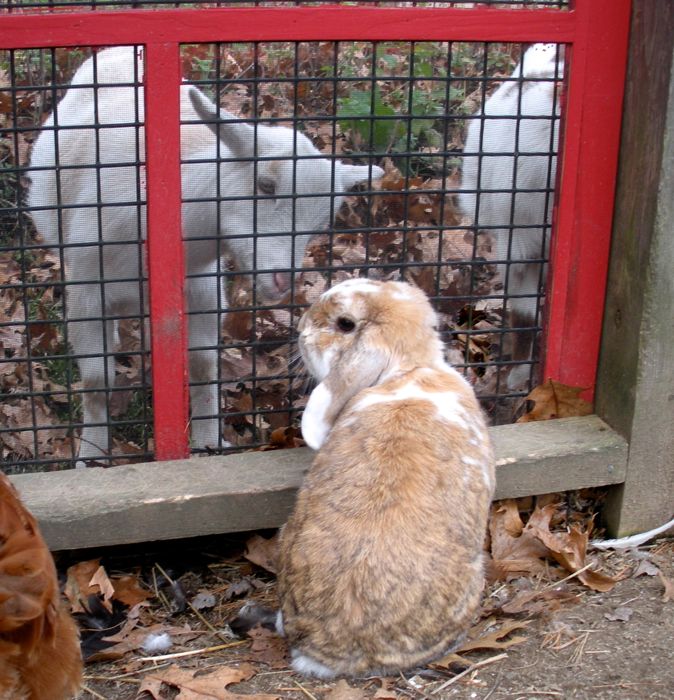 If Candy had lived alone in a hutch and had been visited but once a day, her life would have been boring. She would have been boring. Also, Candy felt safe. So much so that she'd tease the dogs so that they would chase her from the other side of the fence. Secure and free from fear, she had plenty of energy and time to get into mischief! Give an animal an interesting, safe and appropriate environment and that animal will blossom.
But, it wasn't just the environment that brought out Candy's full personality, it was that I was willing to see it. Candy was as adorable as could be. Often, with a pet as cute as that, we allow our own desires for "fur-babies" to obscure the true nature of the animal. This can result in improper care because it becomes geared more to the owner's needs than what is best for our companions. Want an example? House chickens. Need I say more?…okay, I will… little dogs who are carried everywhere.
In caring for my animals, I try to be as consistent as possible. This allows me to be alert to changes in behavior. It also opens the channels of communication. For example, I always let Candy out before attending to the chickens. One day, I opened the chickens' door first. Candy rang her bell in annoyance. She quite clearly expressed her outrage. Without the schedule, without me paying attention, without her confidence that her actions had an effect, the bell ringing wouldn't have happened. She would have remained simply a cute bunny, and we would not have seen the inner imperious queen.
Years ago, I adopted a dog from a shelter. She was a gorgeous ball of white fluff with grey rings around her eyes. She had first been dropped off at the shelter with her litter mates, and was quickly adopted. She was brought back 2 months later for excessive chewing and other misbehaviors. She was immediately adopted, A month later she was returned to the shelter yet again. By the time I got Nimbus, her dossier included destructive behavior and biting. Nimbus was very smart and she rightly believed that no one was as intelligent as herself. Certainly, no one communicated anything that made sense. It took me a month to convince her that I would listen to her, and finally she listened to me. Later on we took up agility. We made it to the masters level. Such stories are not uncommon with dogs. But, they are not often applied to other animals, and yet they should be. All animals communicate with us. We could have simply loved Candy for her adorableness and enjoyed looking at her. But we did more. We paid attention. We communicated. And she talked back. All animals have unique personalities. Luckily for us, Candy was an Empress. How fortunate we are to have been her subjects during her reign.