It's January. It's dark. It's cold. The nesting boxes are empty.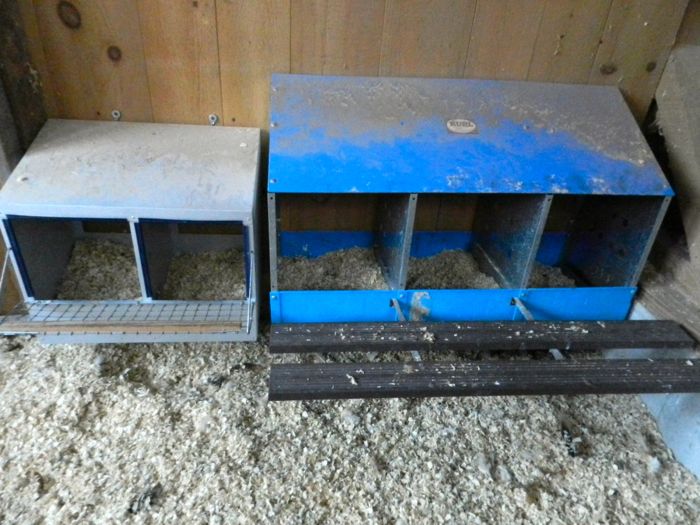 The 12 Gems laid only 5 eggs this week. This time of year I certainly don't expect a full basket, but a few more eggs would be nice. I'm not going to use light to encourage laying, but I do have another way to boost production. At least, I hope so! This trick is one that I've read about in many of my vintage poultry books and magazines: they all advocate feeding alfalfa in the winter when green forage isn't readily available.
Alfalfa, also called alfalfa hay, is not the same as hay. Hay is made by cutting and drying grasses. Timothy and grass hay are mostly roughage and not something to feed to hens (although they might like to scratch through it and find a seed or two.) Alfalfa grows in a field and on stems like hay, but the plant is a legume. It's high in protein, and its fiber is highly digestible. Alfalfa contains calcium, nitrogen and other vitamins and nutrients. According to my sources, alfalfa is supposed to boost the hen's off-season diet and encourage laying. Although feeding greens, like cabbage, is a good addition to the winter diet, it doesn't have the protein that hens need. Feeding meal worms and sunflower seeds is not the answer, as they can be too concentrated and do more harm than good. However, alfalfa supplies protein without the danger of overconsumption, and delivers nutrients in a form and amount that is perfectly suited to a hen's metabolism. (By the way, coarse yellow straw is not a foodstuff, not even for cows. Straw is made up of the stems leftover from the wheat or barley harvest and is suitable only for bedding for large animals.)
I've never bought alfalfa, but knew that most grain stores would have it. The first feedstore that I went to had bales of it for sale that weighed 125 pounds each and were the size of small sofas. I didn't buy one. But, Erikson Grain had a more manageable bag.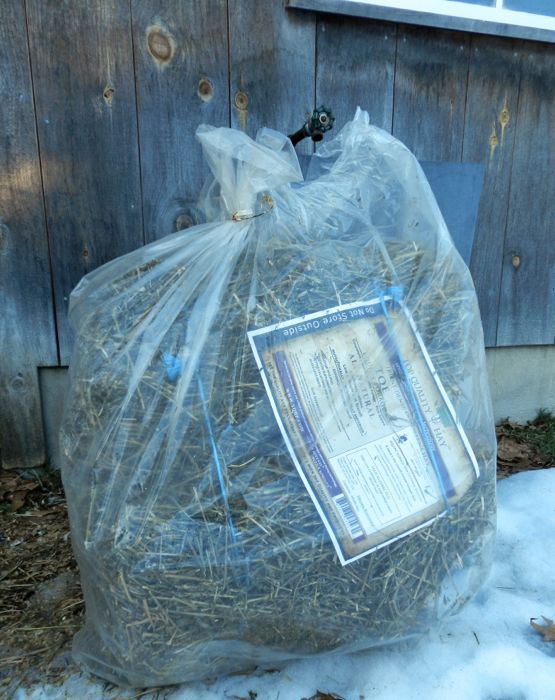 The alfalfa looked coarse, but a close inspection showed much dried green leafy matter.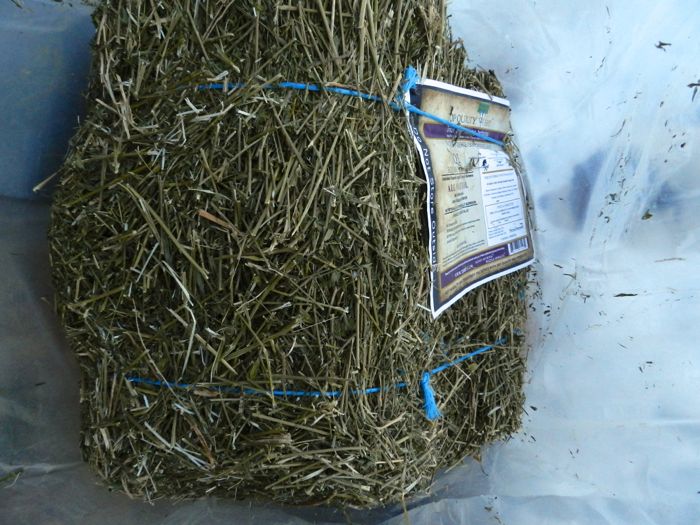 I shook the hay over the ground in the outside run. The hens, who had been clucking loudly at me, all went quiet and immediately set to eating.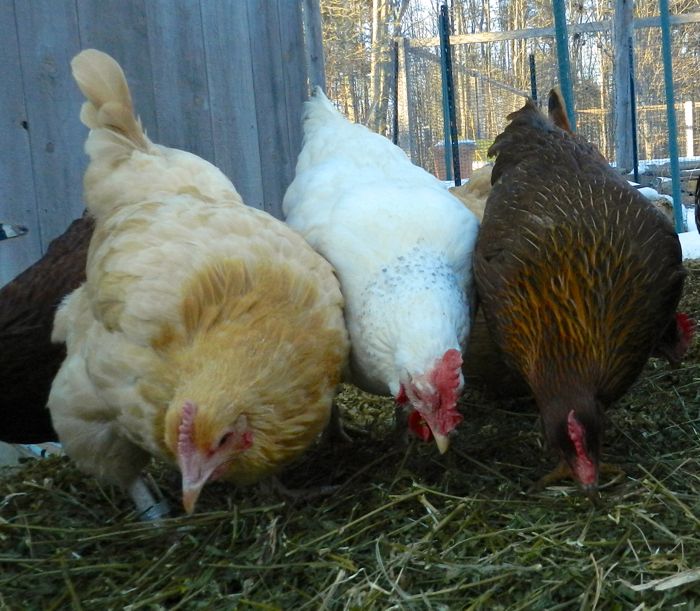 Even Agatha (she's the Speckled Sussex on the far right) stopped being fascinated with my camera and put her head down to eat.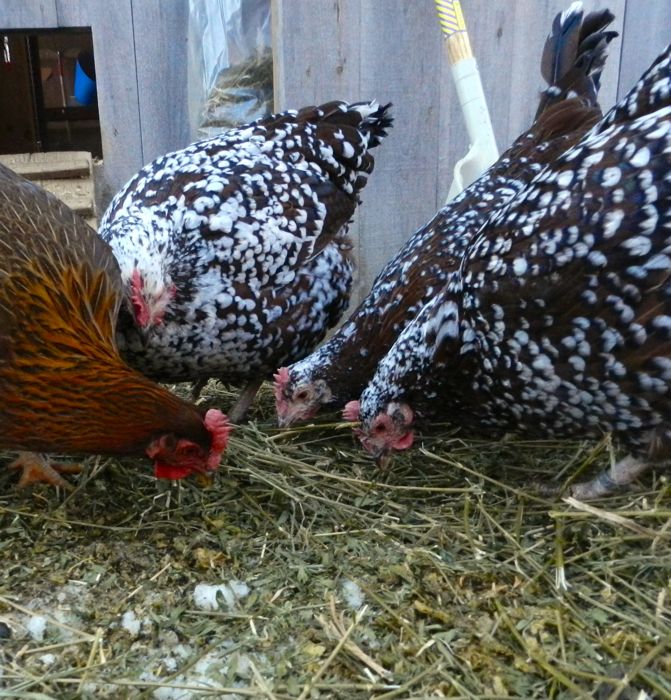 If I had a farm a hundred years ago, I would have had a chaff cutter which would have chopped the coarse stems into edible bits. Perhaps I'll find that tool at a flea market, but for now they are getting all of it, the easy to eat leaves and the long stalks. The general advice is not to feed tough stems to hens. There's a chance of crop impaction. If your hens are hungry, or if they're terribly bored, they might try to eat the stalks. But, my hens have free-choice pellets. They have a compost pile to scratch in. They ignore inedible stems. Because I have goat and the rabbit, they have access to hay, which is much tougher to digest than the alfalfa. I've never had a problem. That's not to say that I don't discount the issue. I'm careful to not give them whole scallion stalks, which they might try to eat. I don't feed green cut grass, as I'm sure they'd gobble it down and get blockages. But, my girls are savvy enough to know to eat the leafy greens and ignore the stalks. So, for now, without the chaff-cutting tool to make all of the alfalfa plant useful, there will be some waste and they'll just eat the leaves. Which might not be so bad, since that's the most nutritious part.
I think that it will take a week before I know if the alfalfa encourages laying, but if it doesn't this won't be for naught. I do think that alfalfa will replenish their mineral and protein stores lost after a year of laying and molting. I expect my hens to primed and ready for spring egg laying by the end of next month.
The goats heard me shaking out the alfalfa. They bleated and they pleaded but I didn't give them any. Alfalfa, as good as it is for hens, is not good for my wethers, as calcium can cause urinary calculi to form. The goats are fed a second cutting grass hay. It's leafy and green, and just right for the boys.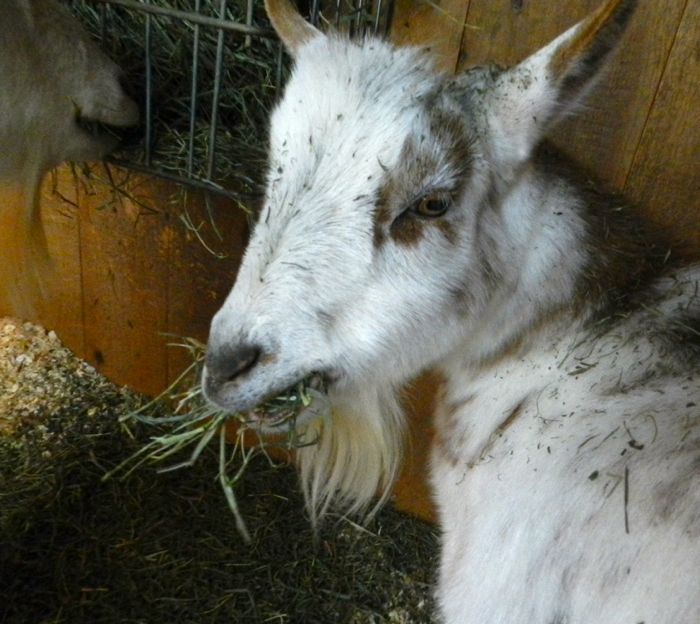 I'll let you know if there's an uptick in the egg count. In the meanwhile, the hens are delighted about this feed trial. They've already deemed it delicious.