Stories of "unlikely" friendships between animal species have been made into at least a half-dozen books, which all appear to be selling well at bookstores. Stories of chimps and tigers, tortoises and hippos, a dog and a pig. They're sweet. They're cute. But why are people surprised? Why do people think that animals only relate to others like themselves? Certainly, if you have a mix of animals in your life, even if it's just a cat and a dog, you know that they are in a relationship (albeit not necessarily loving – even brothers and sisters can have rivalries.)
Just look around you. Or look here. Yesterday, many people commented on Candy's regal stance in the center of the HenCam coop. (Well, as regal as one can be when one's throne is a purple plastic kitty litter box filled with sand.)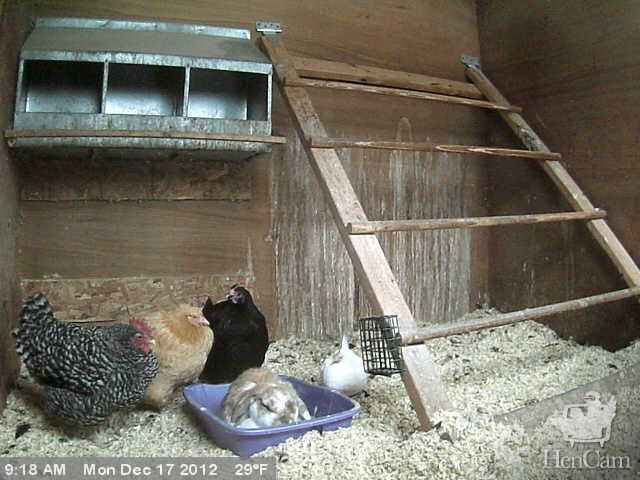 Candy enjoys the company of the hens. In the morning she hops over to their pop-door, waiting for them to come out. During the day she watches their comings and goings from the top of the ramp in her hutch. Candy is their leader. Not a rooster. But their leader, just the same.
Candy and the goats are friends, too. Once in awhile, I let Candy out into the goat pen to have a hop-around and to eat the fresh grass. When I first did this, the goats wanted to treat Candy like another goat, with head-butting play. Candy did not like that idea, and she clearly communicated the rules of the friendship to the boys. I saw it happen, and I'm still not sure how this was done. Bunny ESP? Pip came up, ready to head butt a "hello, let's play," when he stopped in his tracks. I happened to be there, at the moment that this agreement was reached and snapped this photo.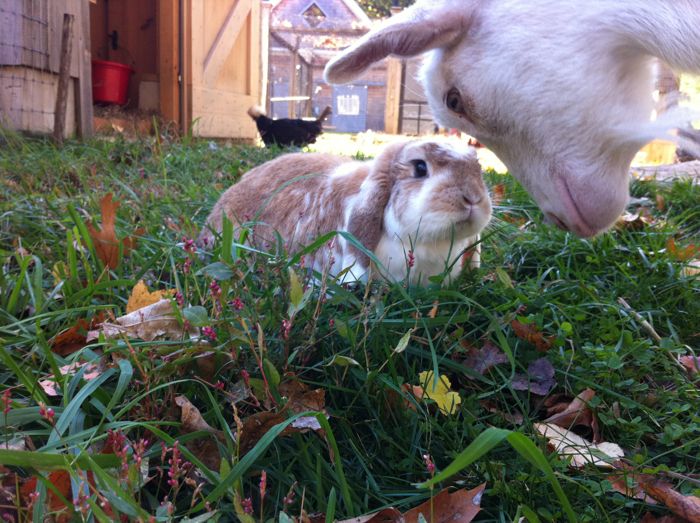 Have you seen Candy at dusk, over at the fence, saying goodnight to the boys? In the summer, they hang out there on warm nights and converse. It's an evening ritual.
It's not only domesticated animals that have interspecies animal communities. The Beast was well aware of huge, old bullfrog that lived in her pond (it died this summer at the grand age of ten.) The wild animals, too, interact with each other. Karen Pryor has written about these animal communities, specifically her observations of birds, in an essay in her book Karen Pryor on Behavior.
Of course, we humans are also a species, and we have relationships with many other animals over our lives. I find this as wonderful and remarkable as any story about a chimp and a pigeon.