This week I wrote my 1000th post on HenCam. Instead of petering out, I find myself with more and more that I want to share with you. I have a notebook filled with ideas for posts, and everyday something happens in my backyard that is story worth telling. But, right now I am crazy-busy. I have two publishing projects in the works (more on those when they are closer to being sure things) and I have a lecture and a workshop coming up. I'm also consulting with a nursing home to bring the joy of chickens to their residents. A coop will be installed, and a landscaped pergola will be constructed so that people can sit outside and watch the hens. I'll be doing programs with their memory-loss residents, bringing feathers, eggs and a live hen for them to see and handle. Such exciting work!
So, as much as I have a lot more posts to post, in the next month or so, I might not be able to get to this everyday. In the meantime, I have a small giveaway to celebrate the 1,000th post. I've made this keychain and two magnets from a Layena feed bag.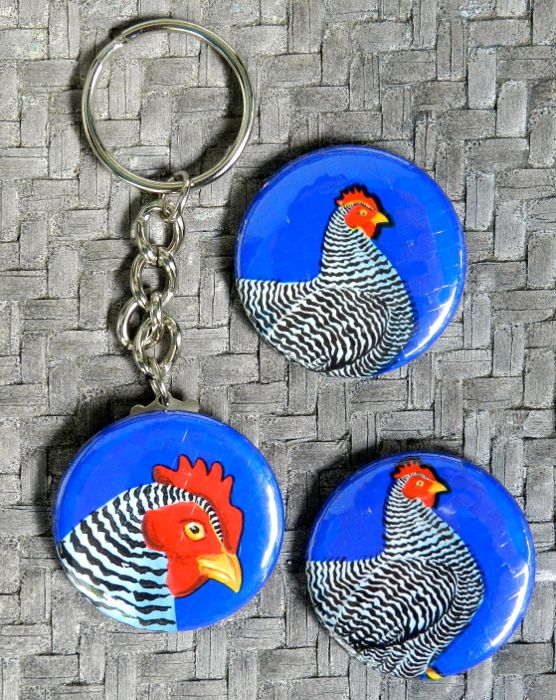 To enter, tell me what key you would hang on the chain. It can be a real key, like the one to your front door, or one you wish you had (I'd take a pickup truck, horse van and horse!), or one to something intangible, like the key to a loved one's heart. Leave your comment here for one entry. If you post this contest on FB, let me know here and you get a second entry. If you post on Twitter, come back and tell me and you get a third entry. I'm happy to ship anywhere in the world (I had a reader from Tanzania the other day!) The contest closes on Sunday, September 9 at 9 pm EDT. The winner will be picked by a random number generator.
Thanks for being here with me on HenCam. Good-luck!