Last week, in preparation for Wendy's visit, I did a few things. Yes, I changed the sheets in the guest room and put out a fresh, pretty little soap. But the most important thing on my to-do list was to go to HomeGoods and buy a carload of black ceramic pots.
On her third day here, we shopped at five plant nurseries and came home with a trunk full of vegetables, herbs and flowers (annuals and perennials) and 160 pounds of potting soil. With her plant knowledge and eye for horticulture design (and now sore back) we put these together: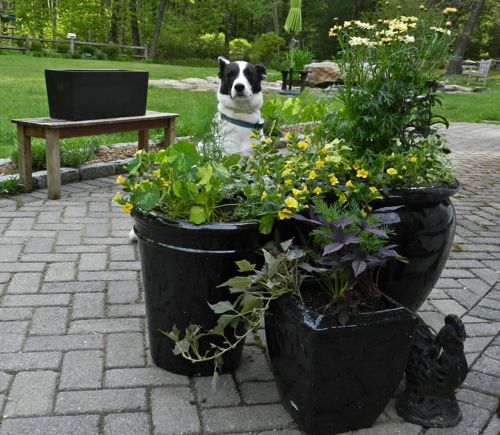 The next morning, my husband got up early and baked off croissants (Trader Joe's frozen are the best) and I hurried out to the garden to dig in the perennials – all while Wendy slept in. See? We are very good hosts.