Today is HenBlog's 6th anniversary. The writing that I do for this blog is the most consistent, longest work project of my life. Writing itself isn't new to me – I've always thought of myself as a writer. One of my clearest childhood memories is of putting down my thoughts and stories in a notebook. Over the years my identity as a writer was confirmed by the publication of five books and numerous magazine and newspaper articles. My sense of self-worth was tied into whether an editor and a publisher deemed my words valuable and interesting enough to put into print. I continue to want to get my projects picked up by traditional publishing houses. (I love the collaborative process that takes place with a talented team of people all focused on getting a book out.) But, unlike in the past, my sense of worth as a writer is not limited to that.
A turning point for me happened two years ago, during a lunch with a friend and an editor. We were talking about what I was writing, and how hard it is to get published. We had just finished a course of egg salad and greens, and were eating chocolate soufflé. We were on my screen porch, watching the chickens in the yard. She said, "This is what you do. Do this." She swept her arm out at the view. I felt like I had been given permission to turn my backyard world into my writing world.
Now I have my books, but I also have you, and this on-going conversation on HenCam about a chicken keeping life. The story continues in my school visits and chicken keeping workshops. It'll be told in new books and articles. But, mostly, it happens here. Thanks for reading.
Lily celebrated the anniversary by going fishing. It's raining, thank goodness, and the pond has been rising, enough so that the little goldfish were swimming in the shallows. Lily caught and ate one before I realized why she was prancing and wagging her tail in the yard. She's taking the rest of the day off.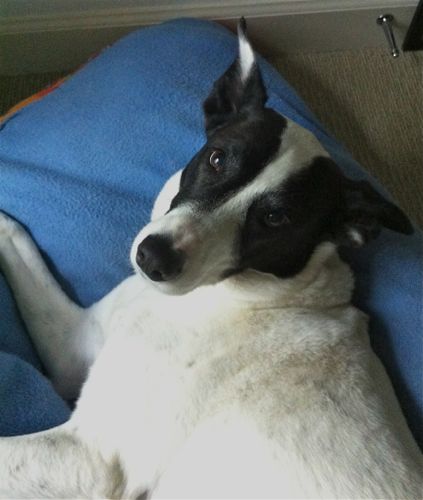 I wish that I could take the day off and go fishing (although not exactly the sort of fishing that Lily does) but I've things to do. Writing projects are in the works.
If you have a favorite story that you've read here, do let me know.