A few of the hens get all the attention. Buffy has been a favorite for years. Agatha Agate immediately endeared herself to all. The Polish are their own comedy troupe. But what of the others? Today's "Unsung Chicken of the Week" is Etheldred. She is one of three Speckled Sussex that came last spring in my order from Ideal Hatchery. I wanted more Sussex because I had recently lost Lulu, one of my great hens – she had a big, crazy personality and made her presence felt daily. However, it was clear early on that the three Speckled Sussex chicks were nothing like Lulu. Lulu, it turns out, was one of a kind. But, the three new girls each had their own, quite unique, personalities. Agatha is mild-mannered and none-too-bright but as sweet as can be. Florence is active, curious and quick. Etheldred is big, brassy, forward and hungry. She pecks at my shoes, she jumps up to peck my hand. She is demanding. She would not make a good school visit hen. On the other hand, she is the one hen that checks out what I'm doing in the garden. She'll leave the others to hang out with me. She's smart enough to know that I dig up bugs and I hand out sunflower seeds.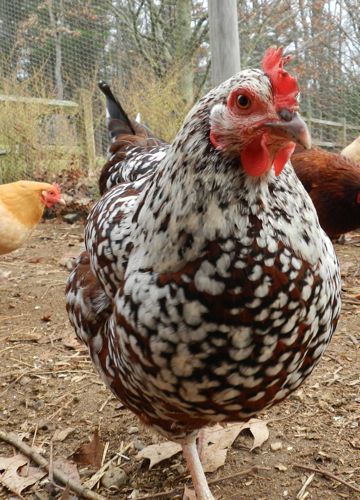 Etheldred is not show-quality. There's too much white on her head. But I think that she is very pretty.
A note on how I'm doing: I had wanted to respond to each and every one of your nice comments, but I am not up to it. I spent most of Thursday in the hospital emergency room… I got a stomach bug which caused dehydration (I'll spare you the details) and needed a few liters of fluids and some extra care. I'm back home and staying very quiet.