If you have goats, you know the term t-boning.
This is what it looks like.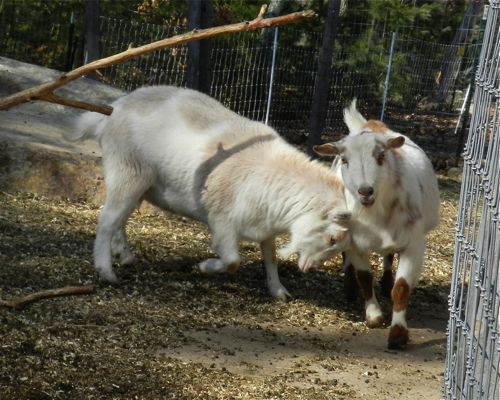 It's when one goat shoves the other smack in the ribcage. Pip does this to Caper. A lot.
They are brothers and they are best friends. Pip is a sweet, gentle, loving boy. He often has a bucolic smile on his handsome face. Caper, if asked, would say that behind that smile is a smirk, and that Pip is actually a jealous, greedy goat. Caper would not be exaggerating.
If Caper has found a green morsel in the pasture, Pip t-bones him out of the way. If I call the boys, (as in this photo) Pip t-bones Caper out of the way. If I sit on the rock to give them scratches, Pip t-bones Caper out of the way.
Caper accepts that this is how his brother is. Caper, in his calm (and sneakily smart) way, knows it's not worth the energy to respond. Caper knows that while Pip is doing his bossy t-boning, that Caper can keep his head down and keep on eating. Notice that Caper is the more rotund of the two. As I said, Caper is the smart brother.