I've had hard frosts in my backyard right into the end of May, but this year the winter has been unseasonably mild and I think that this spring will be a warm one, too. So, I decided to take a chance and plant early. I'm eager to sow the cool-season crops, like parsley, kale and spinach. Although the beds look ready for planting, there's one chore to do before I can plant. There are bad bugs lurking in the leaves and the dirt, and I know just who can dispose of them.
Yesterday I lured the Gems into the fenced vegetable garden and shut the gate behind them. The chickens would rather be in the pumpkin patch or the woods, but they soon understood the task at hand. The Gems set right to work. Go get 'em, girls!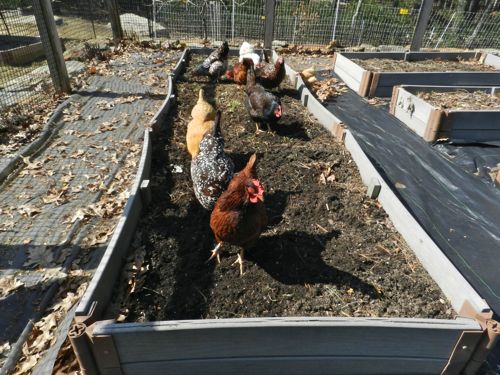 Today I planted the greens. Today, when the girls had their free-range outing, they were on the other side of the fence.