Some days I just don't want to cook. Despite having worked as a sous chef and as a food writer, and having knife skills that make quick work of most recipes, there are days when I want someone else to do the food planning and prep, so that I can ignore the kitchen until I'm called in to eat. In this house, however, that doesn't happen. I'm the only cook (although my son makes a mean grilled cheese sandwich.) If we lived in the city, I'd have take-out menus by the phone, but no one delivers to our little town. Not even pizza.
So, yesterday I proposed that we go out to dinner. The idea was greeted with looks of dismay. They're spoiled. Why eat out when they have a professional private cook? Actually, I didn't want to eat out either. I wanted a quick meal and then time before dark for another half-hour in the garden pruning the spirea.
So, reluctantly, at 5:30 I looked into the refrigerator. Not much there. No leftovers. But there were eggs (every one of the 12 Gems laid an egg yesterday!) I could have scrambled some up with smoked salmon, but I wanted a meal that looked more like dinner. I pulled Italian sausage out of the freezer and put it in a skillet to thaw and brown. (The sausage is amazing. I buy it at a farmer's market from these very nice, conscientious farmers.) I poured some excellent marinara sauce into a small pot and set it to a low simmer. I carefully cracked in four eggs and set the browned sausage next to them. (That's two eggs per person, my son wanted scrambled eggs.)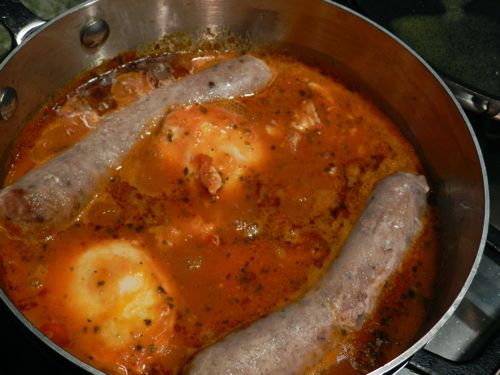 I covered the pot and let the eggs poach gently for fifteen minutes. Meanwhile, I toasted a few slices of bread.
To serve this meal, which I'll call "Poached Eggs in Marinara with Sausage," I set the toast on our plates, and then, using a slotted spoon, set two eggs on a slice of bread. Next I ladled some sauce on top, and dusted it all with Parmesan Reggiano. I cut the sausage into a few large pieces and placed them to the side. I filled out the meal with something light – romaine lettuce and cantaloupe.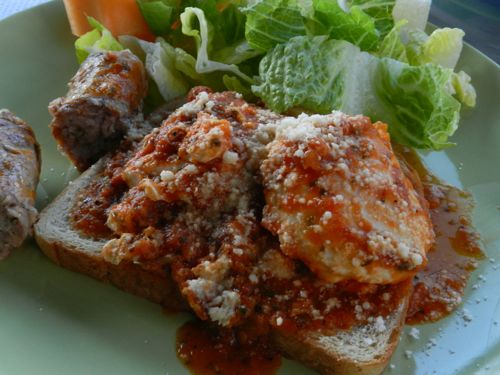 Twenty-five minutes after looking in the refrigerator, we were on the screened porch, eating dinner. It was almost as if I hadn't cooked at all. I only had to use a knife once, to cut the sausage. Steve actually did more work – he cleaned up the kitchen.
I think that the next time I don't feel like cooking, I'll do a version of this called "Eggs in Hell," in which the eggs are poached in salsa and it's served up on cornbread with beans on the side. But not tonight. Tonight we're all going out for spicy Chinese food.