How many chickens do you see in this photo?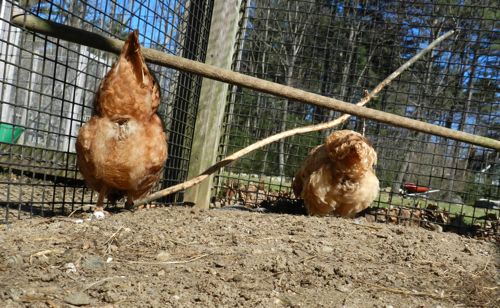 Philomena is on the left. Buffy is on the right. Look again. Eleanor is in the middle.
Here is another view: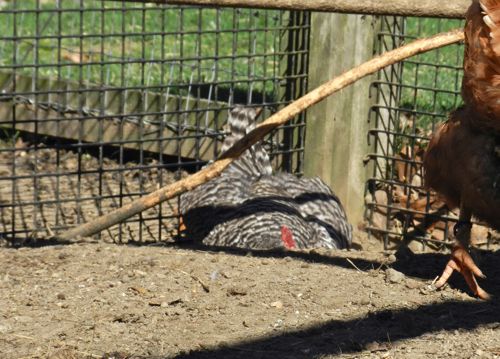 This is the hens' favorite dust wallow. It is dry, deep, sunny, and warm. Eleanor is so ancient – seven years! – that she no longer scratches the ground for bugs. But she does like a vigorous dirt bath.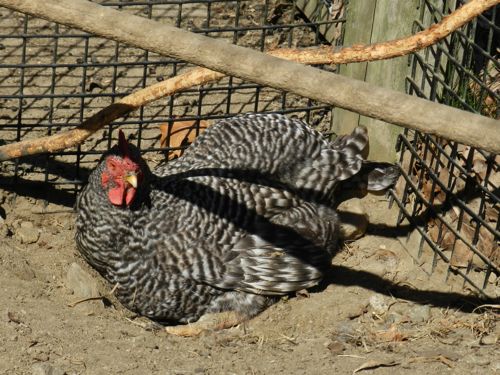 Even Candy likes to sit in the prized corner. When she's tucked in there it's like she's gone down the proverbial rabbit hole. I've been worried that she was truly going to disappear – she likes to dig and although the fence is installed six-inches below ground,  that hole is so deep that she could now easily burrow out. So, on Saturday I came up with a temporary solution and filled the pit with two flakes of hay that the goats have refused to eat.  Of course, once it was on the other side of the fence the boys declared the hay delicious and have been nibbling what they can pull through the wire. Meanwhile, I dumped half a bag of coarse builder's sand in a rarely used dust wallow to the right of this one, thinking that the sand would make it more enticing to the chickens. They were not impressed and took turns kicking it all over the run. Which goes to show that you can lead a hen to a dirt wallow but can't make them bathe.