We humans are programed to read emotions by looking at faces – and especially at mouths. We look for snarls, sneers and bared teeth. We look for grins and laughter. It's how we determine friend or foe. Some animals, like dolphins, appear to be perpetually smiling, and so are deemed beneficent, loving creatures. They are, probably at times, but they are also dangerous animals capable of anger. Karen Pryor has told me harrowing tales of dolphins that mean harm, all the while "smiling." With dolphins, one has to read air bubbles, body language and swimming patterns.
So, how does one interpret this?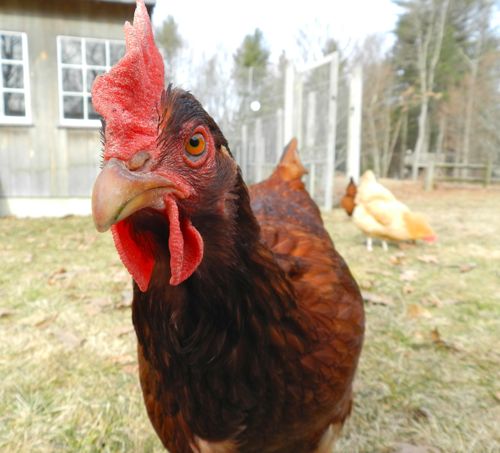 Ignore the downward turn of that beak. Garnet can't help it. Ignore that beady stare. She can't do anything about that, either. Instead, pay attention to the set of her tail, to her bold curiosity, to the tilt of her head. Listen for chortles, squawks or silence. Drop your assumptions and see the animal for what she is.
It's hard to get past that glare, isn't it? It's hard not to believe that Garnet  is one disapproving hen.
Like most Rhode Island Reds, she's bossy, hungry and demanding. Garnet is used to me, and knows that there are times when I'm the bearer of good things, so she's approachable. She wants to know what I'm up to. She doesn't want to miss the hand-outs. That's all obvious. But, the more subtle traits take time to discover. As the weather warms I'll be sitting out on the lawn. Watching. I'll have to ignore that downward scowl in order to see the chicken behind it.
Still, it makes for a funny photo doesn't it?