About a month ago, out of the blue, I got an email from a reader in Texas. Jennifer loves animals. In fact, she loves all animals, and is proving that in a concrete way. Jennifer is an artist and she is painting every single one of the 5,000 or so mammalian species known to science. But that's another story. This story is about how much she loves chickens. She doesn't have a flock or her own, not yet, and so gets enjoyment from watching my girls. Jennifer is particularly enamored with Agatha (aren't we all?) She offered to paint Agatha's portrait. Of course I said yes!
This week, Agatha's painting arrived, and I immediately hung it in a cheerful spot in my house.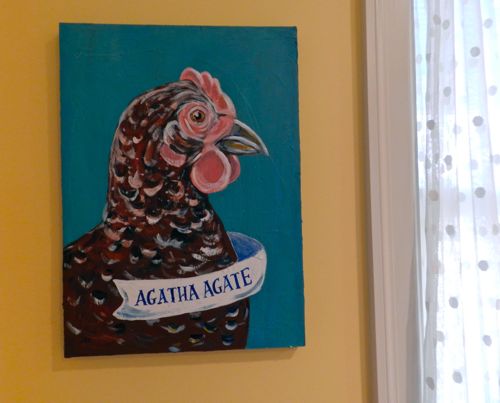 Jennifer has an Etsy shop where you can order portraits of your own chickens. If you don't have hens, she can paint another one of Agatha for you. Or Buffy. In fact, any of my girls would be happy to model for Jennifer. Candy says that Jennifer can paint her, too, but only if there are no chickens in the painting. And only if Jennifer captures her regal bearing. And she'll only pose if there are banana chips involved.