Last night, while watching The Weather Channel, IT Guy typed some code into his laptop, and now you can see the wind speed here at Little Pond Farm (along with the temperature that we've always had on the top right of the HenCam screen). That is, you'll be able to keep tabs on our weather until the power goes out.
Today is the lull before the storm. The animals are acting 100 % normally. Obviously, I can't rely on them to let me know that a hurricane is brewing.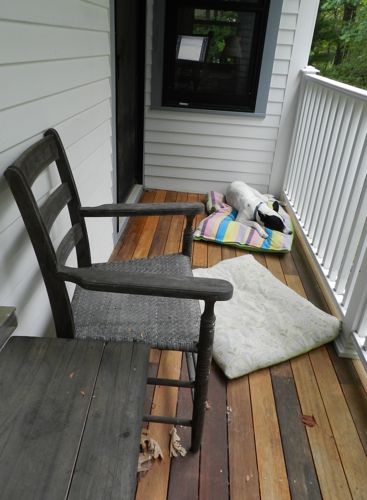 The animals are relaxing on this hot, humid day, but we humans are busy. I'll be bringing in those dog beds and the furniture from this deck off my office and that will concern Lily. She hates change, almost as much as she hates seeing me pack a suitcase. She's an aware, smart dog. Unlike Scooter. As long as there's a lap to sit in, Scooter is content. He was quite satisfied last night, keeping us company, while we watched reports of impending disaster.
Today I'll be filling the chickens' waterers and also a large bucket in the barn. The storm will last less than a day here, but if the power goes out, the well's pump stops, and we won't have water. There will, however, be plenty of water coming down out of the sky. If we get the 5 inches predicted, the pond will overflow. The Beast and her minions will have new territory to explore. That will make them quite happy.