Yesterday we took a family vacation day and went into Boston to the New England Aquarium. My favorite tank in the aquarium holds the cuttle fish, which come up to the glass and eyeball the visitors. Wiggle your fingers and look at them with right attitude and they change colors, with patterns sweeping across their skin in patterns more complex than the most high-tech LED billboard. There's also a large tank that you can put your hand in and rays swim under and over you. Silky, gentle and magical. We were at the aquarium in time to see the Fur Seal Training Show. Although what these animals are taught look like "tricks" – the behaviors are essential for giving them care and keeping their minds active and bodies fit. Still, seeing a seal swim in a circle on cue is cute. When the trainer asked, "does someone from the audience…" my hand shot up before she could finish saying "… meet Ursula."
I got to touch Ursula's flipper, which felt like rubber.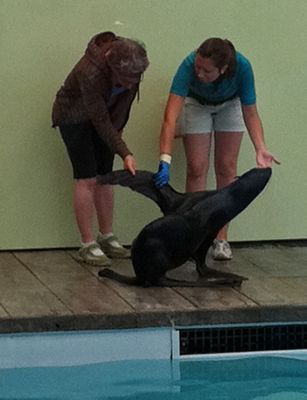 I got a kiss,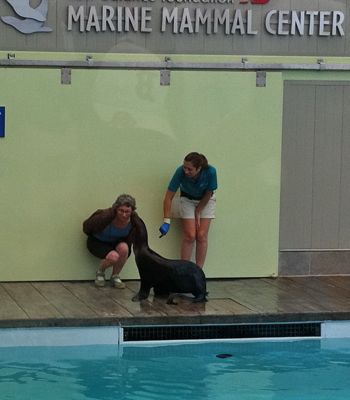 and I smiled the rest of the day.
On the way out, we passed the rehab and veterinary area. A sign said that a moray eel was being treated for prolapse and egg binding. Who knew that eels had the same problems as our chickens?!