Chickens in perfectly healthy flocks once in awhile lay thin-shelled eggs. As the yolk progresses down the reproductive tract, white surrounds it, then a membrane, and then the shell. It takes about 20 hours for the shell to form, and if during that time the hen is stressed, the shell might not fully develop. Sometimes there's a glitch in that conveyor belt and the egg comes out too soon.
But, if your usually perfect egg-laying hen starts consistently laying thin-shelled eggs, something is amiss. They might need more calcium in their diet. They might be diseased. They might simply be so old that their body is depleted of shell minerals, and they'll never lay a sturdy egg again.
Here at Little Pond Farm, my older hens were on the antibiotic Tylan, and two were on doxycycline. Antibiotics will cause thin-shelled eggs. The wife of a vet commented that doxy prevents calcium absorption, so Maizie and Siouxsie were especially lacking in shell-making ability. I fed them yogurt. I tried to keep them as stress-free as possible. Siouxsie laid that one, bloody thin egg, but then the next day laid a perfect, thick-shelled egg. I think she's out of the woods. Maizie is still not well and not laying.
Yesterday I found yet another odd egg. It looked and felt like a deflating balloon.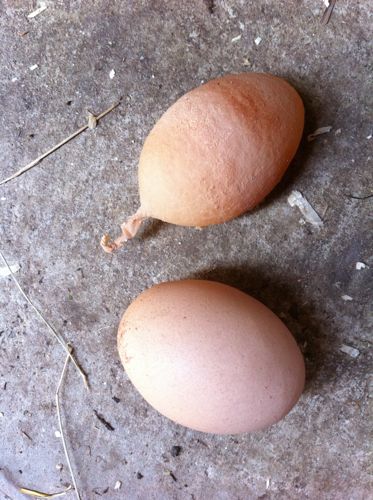 I think that one of the Golden Comets laid it, but I'm not sure. I collected three brown eggs. Two were from the Golden Comets and one must have been from one of my older, rarely laying girls. If you catch one of the hens in the act, let me know! (I don't eat these eggs, as the shell and bloom are not there to protect the egg from bacteria.)
Meanwhile, Betsy is still broody, and doesn't budge, even when a larger hen gets into her space.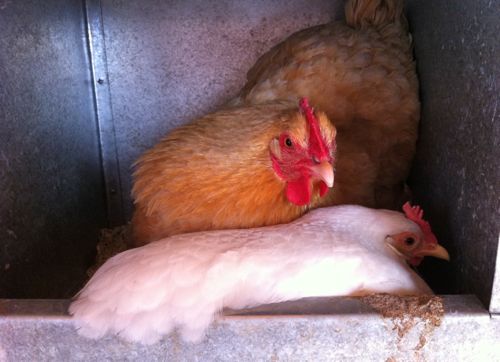 There must have been a thin-shelled egg under her this morning, because when I checked her later in the day, she was covered in yolk. I gave Betsy a bath. It's easy to blow-dry a broody chicken – she just sits there.
By the way, the funny ridges you find on eggs, and those with odd shapes, are usually unique to each hen and are dictated by genetics. You don't have to worry about those eggs or the hens that laid them; enjoy their quirks.