Hens don't like to get caught in the rain. Like most birds, they're waterproof up to a point, but then they get soggy. Soggy is heavy and uncomfortable, a predator can snatch up a sodden bird, and damp leads to illness. So, chickens avoid getting wet. When it's pouring my girls seek shelter under the rabbit hutch or in the coop; when it's clear they're immediately back outside. A hen will go out in a drizzle, but avoid real rain. Today was one of those days when the hens were in and out.If you're not sure how hard it's raining, just check where the chickens are. That is, look at everyone but the Polish hens, Tina and Siouxsie. It's a well-known fact that Polish chickens have no common sense.
Late this afternoon the rain was coming down in buckets. I decided to close up the barns early. Most of the girls were inside, although a few were under the rabbit hutch staying dry. I shook some corn in a cup and they all came into the coop. I  counted. I was missing one. I found Tina outside, hunched in misery and drenched to the skin, her top-knot flattened and muddy. I scooped her up, brought her into the coop and toweled her dry. For good measure I trimmed off the longest feathers on her head. It's still not a pretty picture.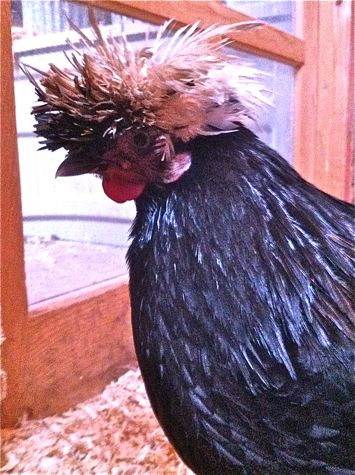 Chickens aren't known for their common-sense (why do you think it was a chicken who cried "the sky is falling!") but the Polish hens make the others look like geniuses. This is one reason why I don't recommend this breed to beginners. You have to take care of them when it rains. Their fancy feathers bobbing on their heads make them targets for pecking, and they can't see to get away from the bullies. If you're looking for easy-to-care for hens that lay lots of eggs forget about the Polish. But if you like silly, go ahead and get a couple. Just make sure you have a blow-dryer handy.