I just got back from a most wonderful two days and I have several people to thank.
On Friday I visited my BFF, Emily. Really forever, as we met when we were thirteen in 1973 (you do the math, I just count decades.) We were both horse-crazy girls at a riding camp in Vermont. The entire camp was filled with horse-crazy girls and I didn't connect with all of them. But Emily was funny and brilliant. We both like words and writing and so were able to maintain a friendship when that was done with paper and pen, and it has continued with email. I haven't seen Emily much. She lives several states away, and has a crazy-busy life of a college professor and mother. She's also been battling cancer. "Going to war" against cancer is a cliche, but in Em's case, she and her entire family donned virtual suits of armor and fought through chemo, radiation and a bone marrow transplant. She won against a rare cancer that is usually the victor.
So, there I was on Friday, on a gloriously sunny day, with the wind blowing the blossoms off of trees, at a farm in Connecticut, visiting with Emily and her good horse, Perry. Yes, we both remain horse-crazy girls. It would have been enough to stand in the indoor ring, smelling that smell of horse sweat and dust and manure, and watching Emily ride, but Emily asked, "will you coach me?" I haven't taught for years. Emily and I went to that Vermont camp another year, and then to riding school in England, where we learned to be riding instructors, and then she studied Greek classics in college. But, I continued to study horses and got my BS in animal science. I rode and taught, mucked and cleaned tack into my mid-twenties, when I switched from riding breeches to chef whites. I continued to ride, off and on, and take dressage lessons (with some Grand Prix level instructors, I never do things half-way) until my back gave out and I had to stop.
Emily is a lovely rider but she's always been a tad tense (Emily would say that "tad" is too generous a qualifier.) Perry is a nice horse, but he doesn't know what to do to make Emily happy, so he moves reluctantly. They ride indoors because Em can't risk a fall outside. They're crooked and ring sour. I didn't have to tell Emily how to ride, what buttons to push to ask for a canter, or where to put her hands. She knows all of that. I had to tell her where to put her heart. I pointed out each good stride. I made her imagine a window in the ring and had her ride through it. I had her recite nursery rhymes. You can't be tense when saying something silly. I pointed out when to ask Perry for more and where to hold him together. I congratulated each good stride. Soon enough, Perry was carrying Emily with relaxed, confident energy, with, as we horse-people say, a beautiful rounded frame, and Emily was smiling and looking ahead.
So, I need to thank Emily for the chance to teach a lesson again. I'm loathe to put the jeans I wore into the wash. I do so love that smell of horses.
The next day, I headed further south to Westport, CT. Elizabeth Beller, a HenBlog reader from that area, had acted as matchmaker and connected me to Earthplace, which hired me to do a Tillie Lays an Egg story time and spend a few hours at their Green Fair talking about backyard chickens. Elizabeth and her daughter, Brie, brought three of their chickens. Brie is an animal-lover after my own heart, and spends hours with her hens. It shows. Her friendly and relaxed birds were the ideal chicken ambassadors. I talked about poultry for four hours, and then was treated to an early dinner by Elizabeth and talked about animals some more, which is just about my favorite way to spend a day. Thank you Elizabeth and Brie! (Click on their names and read their blogs.)
Here are Elizabeth, Lady Gaga and me.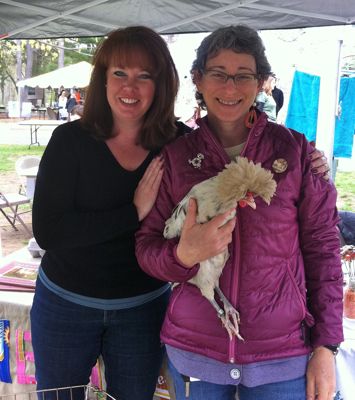 Finally, did you notice that I spent much of my time in conversation? When I visited Emily a year ago, I had a hard time following her words. The visit was only a few hours and I was exhausted afterwards. This time, the visit lasted a day. We talked in the car, at the barn, and at the dinner table. I heard almost every word. At Earthplace, I heard the voices of little children and the voices of their parents. I heard. Thank you to Dr. Toh, my surgeon, and Nancy Cohen, my audiologist, for the incredible, life-expanding gift of the cochlear implant. And thank you to the scientists, everywhere, working on the devices and drugs that allow Emily and I to continue to be friends.