Candy loves living outside with the chickens. First thing in the morning, I open up her hutch and she hurries down her long ramp, and then up the chickens' short ramp to stare at the coop's pop-door, waiting for the girls.  I go inside the coop and let the hens out. They hustle and bustle out their little door, Candy in their midst. It's a funny sight – a calm zen-like bunny, immoveable as the hens run this way and that. Sometimes Candy plops herself on the ledge of the pop-door, blocking the chickens' way. I'm sure she does this to cause consternation amongst the hens. A little white leghorn squeezes past, but the big hens, stuck indoors, hop up and own, peer at Candy, and squawk. I'm sure that Candy is laughing.
It's such fun to house Candy with the hens, but it's not something to do without thought and some construction skills. We've gone to a lot of trouble to keep Candy safe outside. Candy needs protection from predators. That required burying the perimeter fence 8-inches below ground, so digging predators can't get in (and Candy can't burrow out.) There's hawk netting stretched overhead. At night, Candy is closed up in a secure hutch, with a raccoon-proof latch. We keep her warm in the winter by adding sides to the hutch, and cool in the summer by removing those sides and adding a shade awning.
House rabbits are renown for chewing on wires. When Candy first went to live with the chickens, we learned that bunnies can't resist outside wires, either. She shut down the HenCam, and Steve enclosed the wires with conduit.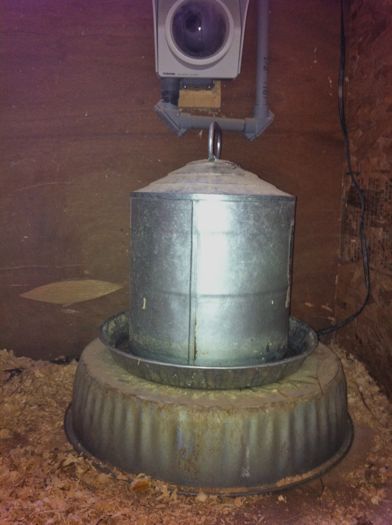 That's the camera above the waterer. See the conduit?
On Saturday I cleaned out the coop. That metal base is a heater and keeps the water from freezing. Notice the wire. It's tucked into the back of the coop and runs up the wall. In the five years that Candy has been outside with the hens that wire has been out of her reach.
Never underestimate a rabbit.
I picked up the heater and a flash of fire shot out. I'm not exaggerating. It was a flame, not a spark. The coop was dusty from my cleaning, and the dust in the air caught fire. It was dramatic, but, thankfully, very, very brief.
Candy had chewed the wire.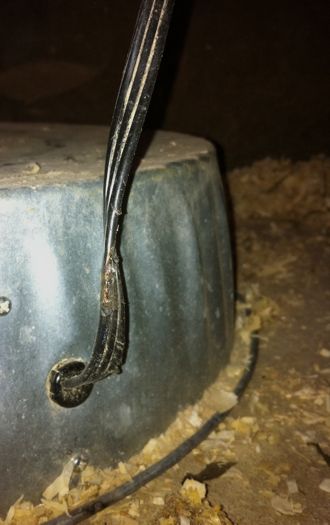 The electric zap shut down the HenCam for awhile. Luckily I have a live-in IT guy. The heater isn't needed until the cold weather sets in next winter. So, there's time to fix the wire and install yet another bunny-proof conduit.
It's a good thing that I'm such a stickler for keeping my barn tidy and clean. Frequent barn inspections are essential. You never know what dangers lurk there.