As we all know, there's an obesity epidemic, and it's not just affecting people. Our pets are suffering, too. It's not simply a matter of aesthetics – it's a matter of health. We've all seen the waddling beagle who can no longer run and play, and the fat cat on youTube that people laugh at, but is bound for a short life. We indulge and we feed to excess, thinking that it's a loving act. It's not.
A few months ago I heard from a woman (let's call her "Bess") who found a lone, white hen wandering the neighborhood. Bess and her husband love animals, and have cats and dogs, and so brought the hen home and it became a doted on pet. A couple of months ago she emailed me because the hen had some sort of respiratory ailment. She put it on a course of antibiotics (a default when a hen is wheezing) but after 10 days the chicken was no better. Some time later, Bess took her hen to a vet who prescribed another round of antibiotics. Again, no improvement. So, back to the vet they went for a stool sample and check-up.
Bess emailed me to say that her chicken was weighed at the vet's office, that she came in at 14.6 pounds, and asked if the hen was overweight.
The average hen weighs 6 pounds, 8 would be quite large. 14.6? !!! No wonder the poor hen can't breathe. Her lungs are surrounded by fat.
Why didn't the vet notice? Several trips to the vet's office, and the hen's weight was never mentioned. It shows you how little vets know about chickens.
Bess was loving and feeding her hen to death. She'd heard that corn will keep a hen warm in the winter, and gave it free choice. Since the hen had no competition from a flock for food, she was eating constantly. This is what the hen looks like.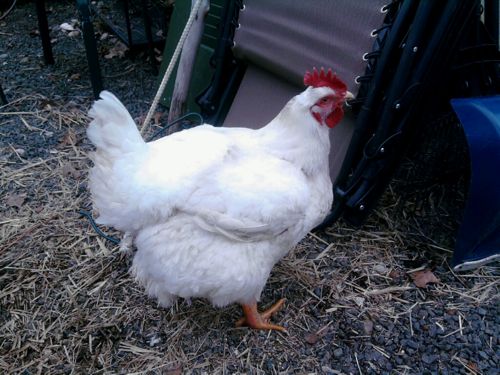 I think she's a Leghorn, which is a slender, active breed. I could be wrong. It's hard to tell. I'm thinking perhaps I'll call it a new breed, the "Sumo Wrestler Rock."
My old poultry books warn against letting hens get overweight because, not only was in not economical to overfeed, but excess fat interfered with laying. I don't think that they ever imagined a hen getting this big.
I've recommended that Bess feed chopped greens in the morning, and a handful of laying hen pellets in the afternoon. No scratch corn! I think there will be a marked improvement soon.
Having seen this, perhaps my readers will take a clear-eyed view of their own flocks. We all love to see plump hens with fluffy bottoms. But, for the hens' health, they shouldn't be waddling like ducks or have difficulty breathing. It's true for people and for chickens -we should all eat more vegetables and go easy on the candy.