It is a very noisy world. I knew this, but since, for the last thirty-five years I've been slowly, gradually losing my hearing, sounds slipped away until I didn't realize they were gone. In December I got a cochlear implant and last month it was turned on. My brain is being bombarded by electrical stimulation directly on the auditory nerve. Thankfully, it's choosing to tell me what it's hearing a little bit at a time.
Tick-tick-tick-tick. When I'm in the hallway, there's a noise. It starts and stops when I start and stop. Is it something I'm wearing? No, it's my shadow, Lily, always there, toenails clicking on the wood floor.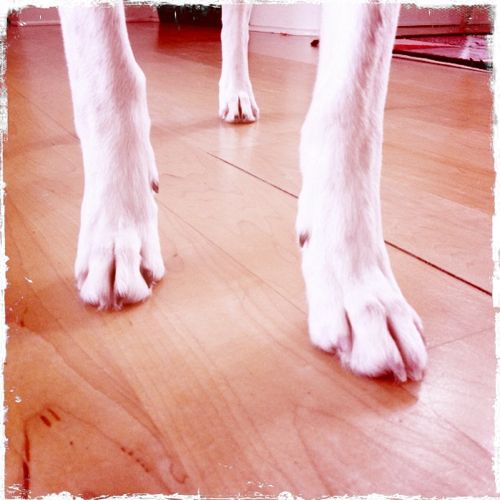 And, who knew that the retractable leash whirrs when it slips back and forth? I stopped in my tracks yesterday, wondering what the odd-sounding machine was. I can't tell where the sounds are coming from, so I looked all around. Nothing. It wasn't until we'd walked a half-mile that I was able to connect the sound with the movement of the leash. I've taken Lily for many walks since the surgery, but this was the first time I heard the leash.
I'm also hearing the antique clock in the guest bedroom chime. Am I the only one who finds that annoying and not charming?
Scooter licks his paws and private parts, a lot. A bit obsessive, really. Which didn't bother me, but now I can hear it. Loud and slurpy. Ewww.
When Lily yawns, she makes a squeak sound at the end. That's cute.
The good with the bad. I'll take it all.