My dogs follow me everywhere. Three other people live in this house, but I'm the dog magnet. So, it's a good thing that my office is such a fine place for dogs. There's a big glass door and a porch with a view of the street. They both have beds, but Lily's is too small.
Despite a long to-do list, I decided to make Lily a new bed today. Scooter would get her old bed, which he prefers to the polka dot one.
I'm not much of  a seamstress, but I can sew a straight line. I had some fleece and fabric scraps, so I spent the morning on this project. I appliqued hearts and bones (thinking they might hide the dog hair.) Lily would have preferred dead squirrel graphics, but I decided that that was beyond my abilities.
I put the bed down.
Scooter claimed it.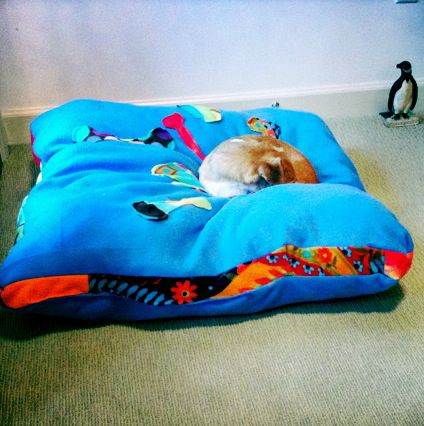 Lily wanted to lay on her bed. She wanted to look out the window. Scooter said there was no room.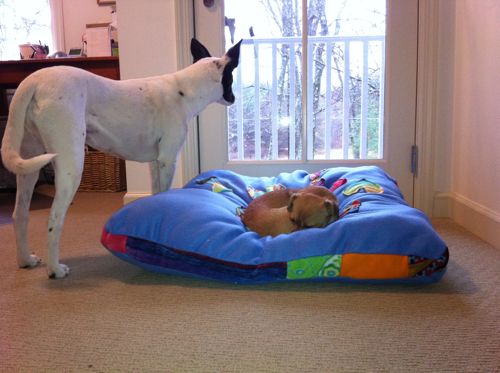 I told Scooter that I was giving him the old bed, and set it right next to the new one. He balefully looked at me. I picked him up. He growled. He was embarrassed at growling at me, but he had to. He just did. I set him down on the new bed. I called Lily over. She lay down, keeping an eye on Scooter.
The bed is the perfect size for Lily to curl up. It's big enough that none of her toes have to touch the carpet. That is, if she has it all to herself. But she doesn't. Scooter says she has to share.
Good dog, Lily.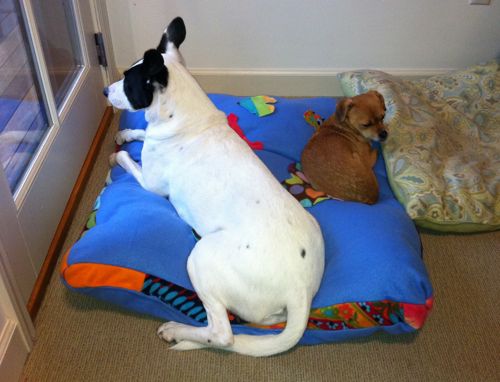 Finally! The little dog has gone downstairs to sit on a warm lap on the couch (the only reason to leave my office) and Lily has her new bed to herself. The way it should be.