I'm elbow-deep in pie crust for my annual pie party. I've already frozen 10 all-butter crusts and two sweet orange crusts. Today I'll be making four savory crusts for the butternut squash and pomegranate free-form tart. I take great pride in my flaky, soft butter crusts. Thank goodness I've learned how to freeze them so I don't have to make all 20+ crusts on the day of the party!
Making crusts really is easy, but it does take experience to get a perfect result. The ingredients are basic, it's how you handle them that makes all the difference. I make crusts using very cold, almost frozen, butter, and ice water. I work it as little as possible in the processor to form a ball. It's exactly the right temperature to roll right then. Many books advise letting the dough chill before rolling. Don't.
I pat the dough into a flattened ball. I roll it out 1/4 inch thick. I prefer to roll on a flour-dusted surface, not between parchment as is often recommended. But, I have a light touch and my crusts don't dry out fro the addition of too much flour. If you're new to pie-making, you might want to roll between  parchment. I then use a large pie plate as a template and cut the crust into a perfect circle. I put the circles between sheets of parchment paper and place on a baking sheet. Wrap the whole thing in layers of plastic wrap, label and freeze. When I need a crust, I take it out of the freezer and let it sit at room temperature until it becomes flexible – about 10 minutes. Then the crust is ready to use.
Crusts become tough when overworked. After I cut that perfect circle I have scraps of dough. Good, expensive, butter-dough. I could save them and make one more crust, but, rolling it again will ruin that perfect pie crust texture. What to do? I make pie crust cookies. I form the scraps into a ball and roll it out, this time in something like a rectangle. Then, I dust with sugar and cinnamon. Then I put a single-layer of something, pecans, or chocolate chips, or chopped apples – whatever I have leftover from pie baking, on the dough (leaving the edges empty.) Roll it up. Slice it like you would a sugar cookie log. It'll look like rugelach. Place on a non-stick baking sheet (I always use parchment paper.) Bake in a 375 degree oven until lightly browning on the edges.
A baker's well-deserved treat!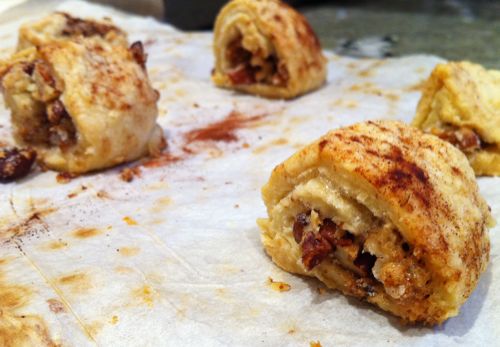 These are pecan pie-crust cookies.
Have a wonderful Thanksgiving!
(Just a reminder that if you haven't yet seen my Goat Notes, to go to my Etsy.com store!)