It's coming on to winter, so it's time to think about getting the boots out of the closet and putting them by the porch door. I watch Project Runway. I know that boots with heels are in fashion. Heidi Klum struts around in five-inch heels and manages to look elegant and powerful. She's probably going to wear boots like these this winter: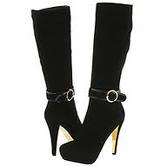 Maybe these boots are fine when walking on flat ground, where there's no ice or snow. Maybe. But to me, they look like an accident about to happen. Fashion is dangerous!
Around here, we have our own sense of style. LL Bean Boots are classics.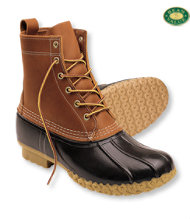 Sensible, sturdy, warm. But safe? Not always.
Left by the back door, wild animals appropriate them for their own uses. Always, always, look inside before slipping them on.