… Pat! More than half of the entries liked The Meeting of the Minds notecard the best. What you should know about that photo is that I took it with my iphone camera – it was in no way posed. Pip's natural inclination is to head butt with some force. After all, he is a goat, and that's how he plays with Caper. But, I think that Candy did some sort of lop-eared mind meld that let him know he could say hello, if, and only if, he behaved. I actually saw him think about butting, and then gently get closer. Sweet.
Anyway, what I should say is "and the winner is…. me!"  Thank you all for telling me how much you love my animals and how much you appreciate my cams and blog.
Yesterday was my birthday. I had a very  nice day. I took the dogs for a long walk to the Hemlock woods. The path smelled like wet brown leaves and decaying pine needles. (Why doesn't Yankee Candle sell that scent?) Can you see Scooter in the leaves in this photo?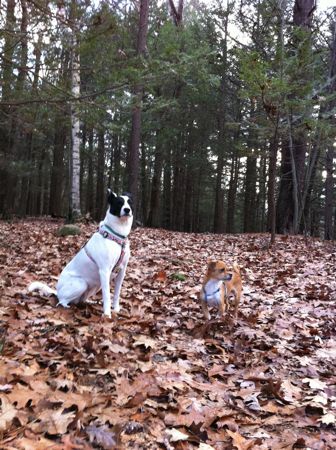 I got the best presents – Steve gave me a DVD about the Jewish chicken farmers of Petaluma. My oldest son gave me a coupon for a dinner, and my youngest gave me a big bag of horse treats to feed the goats. Steve and I went out to dinner at Oleana. The chef's husband is a vegetable farmer, and they use locally-sourced meats, but what I love about this restaurant is the use of vibrant North-African flavors.
The icing on the cake were all of your birthday greetings (I got a slew on FaceBook.) I have four projects sitting on various editors' desks. I am waiting and waiting to hear if they deem any of my work worth publishing, so to get all of your affirmations that what I do is meaningful to you, really and truly keeps me going.
The rose on the top of the cake was a note from one of my very favorite novelists, Jo-Ann Mapson. She found me through google while researching chicken behavior for a new novel. A Jo-Ann Mapson book with chickens? I can't wait! AND she said she likes my writing style. Really, it was just that sort of a warm and fuzzy day.
Lily Dog is at my feet. She says that long walks to the Hemlock woods should not be limited to birthdays. She's right.