There's going to be a cold, torrential rain tonight and it will continue well into tomorrow. There's a few nice-looking green tomatoes left on the vine, but there's no chance they'll ripen, and they'll probably be inedible by Saturday.  I don't have the time or interest to make green tomato chutney (though am happy to buy the efforts of others at farmers markets!) Still, I hate to see the tomatoes go to waste. So, this afternoon I decided to make this: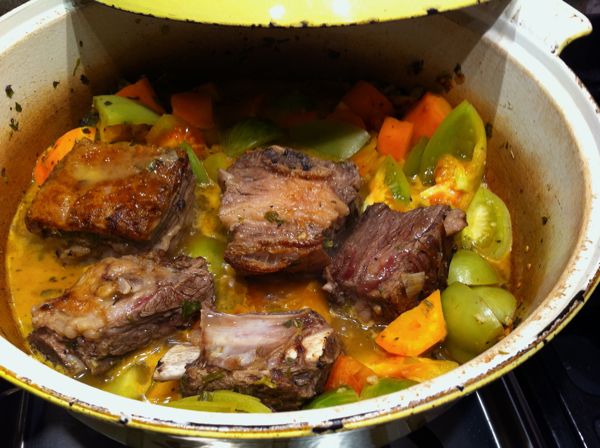 I pulled a package of short ribs out of the freezer. These came from a a farm near Troy, New Hampshire. I happened to be driving by and saw a sign that said, "our own meat, farm store open." The farmer was in the barn, so we had a nice chat. His animals are raised on pasture and slaughtered locally. I filled a cooler to bring home. (The bacon was incredible!)
Anyway, I had the meat and the tomatoes. What else? I pulled some carrots from the garden. (The goats were delighted with the carrot tops that I fed them.  They let me know how delicious the greens are by a show of much head bumping and burping.) I have scallions from my garden in the freezer (alas, my onion crop was miniscule this year, but the scallions did fine.) Garlic from a neighbor. An open bottle of white wine. Canned organic chicken broth in the pantry. With these ingredients, you can't go wrong.
Here's what I did. Use it as a guide, take a look in your pantry, and cook up something similar. If you don't have the ingredients, stock up! A meal like this can be had with only 15 minutes of prep time, and a few hours of you-don't-have-to-watch simmering.
The best pot to use for stews like this is a Dutch oven, which is a heavy, preferably enamel-coated, cast iron pot. New ones can be expensive, but will last at least your lifetime. Mine has seen many years already. I didn't buy the one in this picture. I found it at the town "transfer station." (It used to be a dump, but now the trash is hauled away. However, there's a small building where people leave things that might be reused.) The Dutch oven is chipped, but that doesn't matter with cast iron. I love it.
I used short ribs today, but lamb shanks and stew meat would work just as well. Heat the pan (no added oil) and sear the meat on all sides until brown. Remove to a plate. If there's a lot of fat, pour off the excess. Cook the vegetables over medium heat in the pot until the edges begin to soften and brown. I used carrots and tomatoes, cut into large chunks, and sliced scallions. At the end of the cooking add minced garlic, a couple of bay leaves and salt. Pour in a splash of wine and put over high heat until most of the wine cooks off. Pour in some chicken broth so that there's about a half-inch in the bottom of the pan. Reduce the heat.
Add herbs. Fresh is always good, but mine have all flowered and bolted. I've left them out for the last of the bumblebees to enjoy. I could add a cube or two of frozen pesto. But, I brought a package of herbs back from Iceland and this was my first chance to try them. The package label reads, "Blodbergsblanda." (Actually, there's some squiggles over the o and a funny d, but that's as close as I can type.) From what I can make out, there's thyme, birch leaves, bilberry and juniper in the mix. Doesn't that sound perfect for a short rib stew?
Cover, put over very low heat and let simmer a few hours. It's what I call fast slow food.
Let me know if this  inspires you to try anything similar!