Chickens were never bred to live a long life. A hundred years ago, poor egg producers were harvested for meat after their first laying season. About half of the flock would be kept through to their second winter, when they were all butchered. This is the where the term dual-purpose hen comes from. Eggs and meat. A few breeds are more specialized – for example the Cornish Rock is solely for meat and Leghorns are kept for their egg-laying proficiency.
If kept around, hens do keep laying eggs past that second year. Despite good care, nutritious feed and calcium supplements, the shells become thinner and thus there's more breakage, which is yet one more reason that commercial farmers don't keep older hens. Those of us with backyard poultry, who consider their flock's dual-purposes as eggs and pets, are delighted when an elderly chicken lays an egg. I've always assumed that there's nothing wrong with them. That is, until this past weekend.
Seven chickens live in the big barn. Agnes and Philomena have just reached their second year (and first molt.) They've each laid an egg a day for the last year. Once in awhile Maizie, a three year-old Wyandotte lays an egg. The other hens are six years-old and haven't laid eggs for ages.
On Saturday, a big, wrinkled, thin-shelled egg was found in the the nesting box. I knew that it was laid by one of the old hens. I put it right into the refrigerator. The next day there was another one! I decide to have poached eggs with these gifts from my old girls. I cracked one open and slid it into the oiled poaching cup and saw…bubbles. I have never, in almost two decades of keeping hens, had an egg that had  bubbles inside.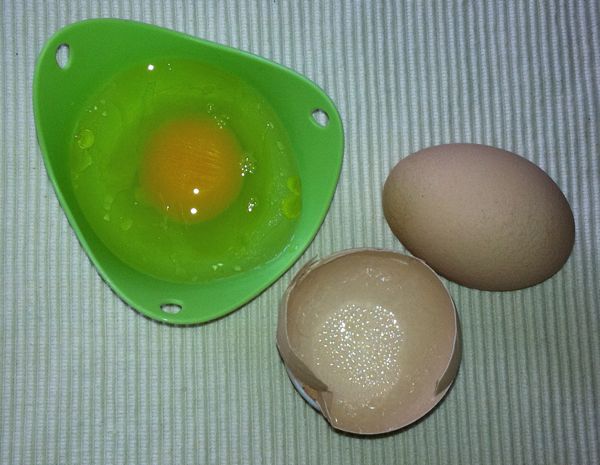 Look at what's in the shell. It looks like soap bubbles, or like I'd vigorously shaken the egg before cracking. You can also see how thin and wrinkled the shell is. The yolk looks fine and there was no discoloration or odor. Weird. I fed the egg to Lily Dog. When cracked open, the second egg looked normal. But, when poached, the white tasted grainy. Lily got that, too. She hopes that the old hens keep laying, but she's had no such luck.