Chickens lay eggs in nesting boxes. At least they should. Some hens lay eggs on the ground. Some, especially free-ranged birds, hide their eggs in all sorts of odd places, but most hens simply want a safe cubbyhole to lay their egg in, and then go back to their day's work of eating, bathing, and scratching.
Nesting boxes can be homemade or store-bought, made of sheet metal, plastic or wood. As a rule of thumb, you need a nesting box for every three hens. This is in theory. I have six nesting boxes for the seven hens that live in the HenCam coop. They are the right size – about a foot square. They have roosts in front so the chickens can get easily in and out. They are all bedded with the same shavings. But, this is what happens: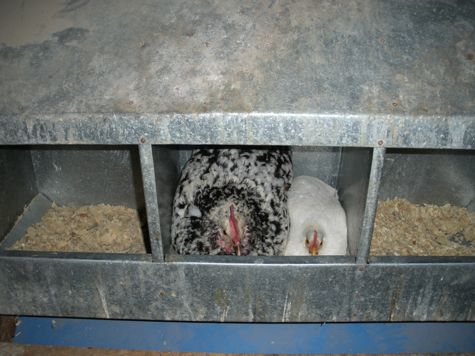 Lulu and Coco are broody. They are huffy. They are in bad moods. They both want the same real estate.
This is what happens when I take Lulu out and try to get her to think about going in different nesting box.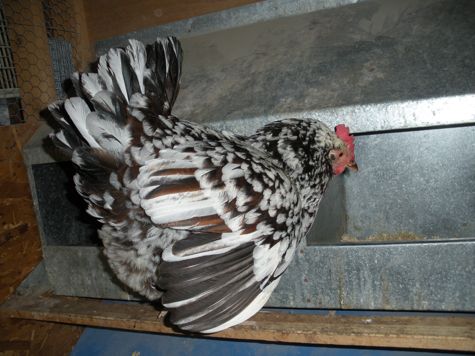 Notice the dramatic body language. She is making staccato clucking sounds. She is trying to stare down little Betsy. (Betsy will win this round. In the coop, it's not always size that matters. Sometimes it's attitude.)
Meanwhile, Tina would like to lay her egg. She didn't lay one yesterday – I think she was too intimidated by the angry broody girls. There's an empty nesting box on the left, and three down below. But she wants the middle one. She's thinking through whether it's worth going for. She ultimately, and with great resignation, decides to sit in the left box.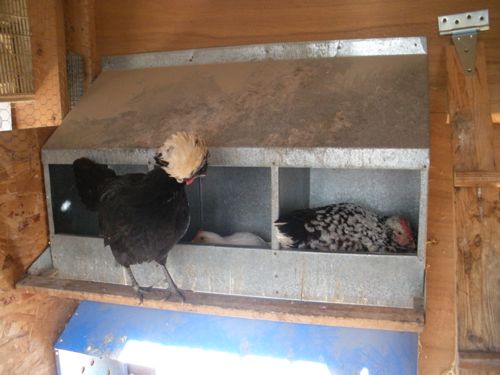 Tina doesn't even consider laying an egg in the bottom boxes. It's too sunny. A nesting box should be slightly dark and safe. Only the clueless hens lay in the blue boxes.
Getting back to that rule of thumb about one box for every three hens – if you have only three hens, and two are broody, and you have only one nest, well, you can see how that won't work. So, the revised suggestion is one box for three hens IF you have a large flock. But, if you have only a few birds, and those are heritage breeds which are likely to go broody, then have three nesting boxes per five hens. And don't site the boxes in the morning sun.