It's April School Vacation Week here. Fortunately, we hadn't planned an extravagant European vacation, so we were spared a long holiday in an airport (although my husband, who has a degree in geology, would LOVE to visit Iceland!) We decided to drive up to Montreal – about 300 miles. Why?
a) we thought there'd be very good croissants there. My boys love croissants. The baked goods proved to be only so-so (anyone want to give me suggestions for next time?)
b) my 16 year old son has his driver's permit and we promised him that he could get a lot of highway experience. He's a good driver, however, it turns out that I am a terrible backseat driver and by the trip home, no one could stand it anymore and I got back behind the wheel.
c) we'd never been and we wanted to go somewhere that looked and sounded different. Since all of the signs were in French, it did feel as if we were far away!
The best part of the trip was the afternoon we spent at the Montreal Botanical Gardens. We were quite disappointed that the Insectarium was closed – the insect keepers were on strike – but the gardens were open, including a butterfly house that was magical. The greenhouses were lush and filled with wondrous plants. Outside, not much was in bloom of course, but I saw this garden arch that I'd love to replicate in my garden.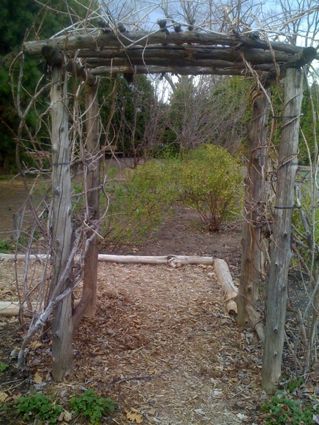 This rock garden was fascinating!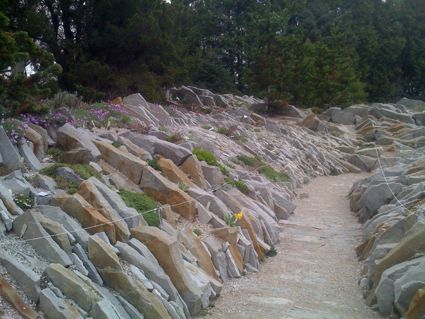 The rock slabs are laid vertically, and they catch heat and rain water. The plants grow in the crevasses. But, now that I have goats, instead of fully being able to appreciate it's beauty, I thought about how much the kids would like a playground like this in their yard.
We were gone for only four days. It's spring, so change happens quickly. Flowers are in bloom, the croci are already wilting and the dandelions are up. However, the goats are still shedding.