Goat are silly animals with big personalities. They have beards. They stare. They talk. They get in your face and climb on your lap. It's no surprise then, that artists don't take them too seriously. Do a google image search for "goat art" and you'll see what I mean.
However, beauty is all in the eye of the beholder, and as comical as my boys are, they are also beautiful. So, I was thrilled when, at the Boston Museum of Fine Arts, I came across these andirons.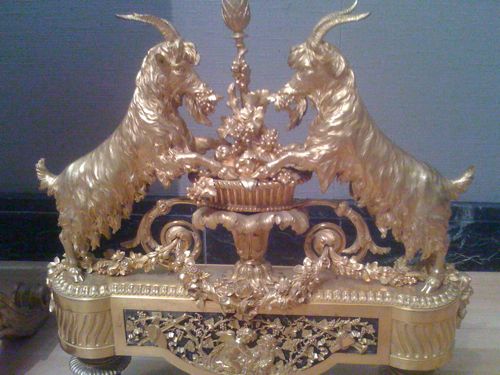 They were crafted in Paris in 1785. Imagine them with a blazing fire behind. Glowing gold goats! Alas, the gift shop doesn't sell reproductions.
Thank you all for your birthday goat wishes. For a special treat, I let my boys graze under the oak tree. They ate their fill of acorns, and then trimmed my oregano patch for a digestif.