The temperature wavers between just below freezing and just above, but it keeps on snowing. The snow is heavy and sticky. It should be called "slushing." Everything is sagging – electric lines, branches, and my mood. I'm surprised we still have power.
This is what my favorite tree looked like this afternoon.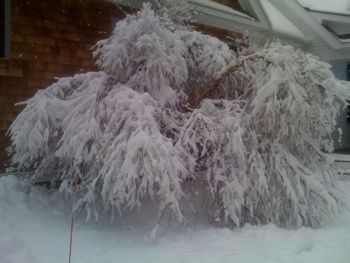 I feared that it would break under the weight of the snow. So I shook it.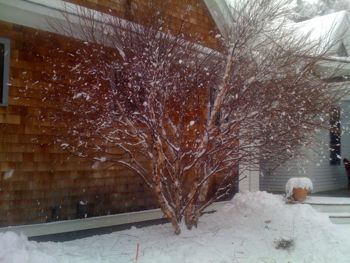 It shed some small branches and last year's robin's nest, but it sprang back to shape. I should have before and after pictures of me – I went from dry to snow-covered. This is not the sort of snow that slides off my jacket, or flutters down. It whomped me and got under my collar. But, it was worth it. The tree is a "Fox River Birch." It has the most gorgeous bark, and every year wrens and robins make their nests in it's branches. Tomorrow I'll have to go shake the Chinese Beech trees in my backyard. They're twice as big. I'll have to wear protective headgear. Maybe my son's fencing helmet?