Here is view of my street early this morning.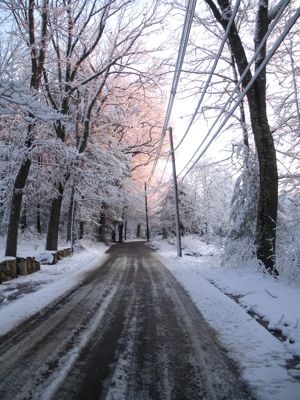 The snow is my husband's fault. He is in sunny and warm southern California. Whenever he goes to California, there is a MAJOR WEATHER EVENT. In the past, I've been left to shovel out two feet of snow, and deal with ice storms, and loss of power. One year, he went to California in the summer, so you'd think all would be okay here at home, but our house was struck by lightning.
In comparison, this early winter snowfall isn't too bad. It's very pretty. The snow is icy and there's no wind, so it defines every branch in white glitter. It does make getting down the porch stairs treacherous. And I had to pour hot water on the chicken run's latch this morning, as it was frozen solid.
The chickens are not happy about it. Agnes looks, but doesn't go in the snow. She will venture out later. It's not too deep, and it's sparkly. Chickens love sparkly.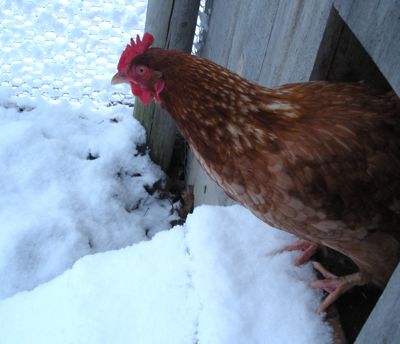 This is the goats' first snow.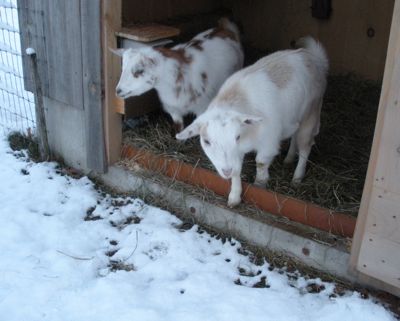 They go right out. They taste and snort and sneeze and cough.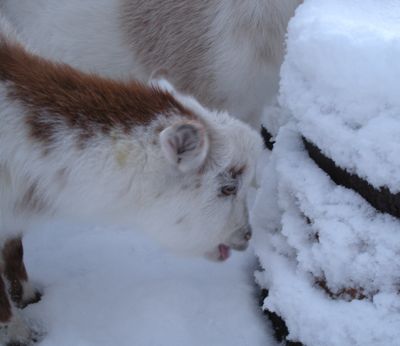 You can tell what Caper is thinking by looking at the hair along his back. See how it stands up like a mohawk? That's goat body language for this is exciting!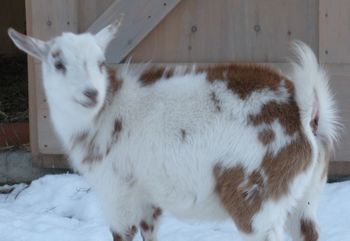 It is exciting. Though I wish Steve was home to do the shoveling.