My office is on the second floor of my home. This is the lovely view that I have across the street and to the town-owned meadow.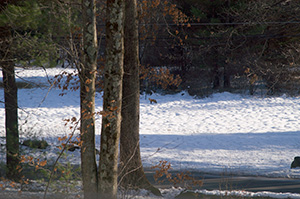 Lily also has a view. She watches the street and the meadow from here: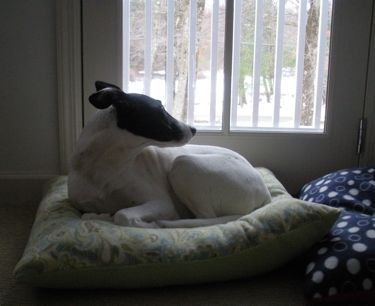 She has a cozy bed but she is always on duty. Sometimes I wish she weren't. She has a bark for the vizlas who live down the road. She does not like them. Lily has a different bark for the gentle basset hound, that she would like to be friends with, but I don't let her. Lily is too rambunctious for that old lady. Lily listens for UPS trucks. She can hear the trucks – through the closed door – a quarter of a mile away. I do not exaggerate. Lily barks. A lot. When it is too much for me, I send her under my desk with a "quiet!" command. She doesn't like being taken away from her work, but she goes.
On Saturday, I was sitting at my computer (I confess to not working – I was bidding on a vintage apron embroidered with chickens.) Lily barked. It was not a vizla bark, or a basset hound bark, or a truck bark. It was a growl/bark. I trust Lily. She barks a lot, but it is always at something specific. I paid attention. I looked out my window and saw this.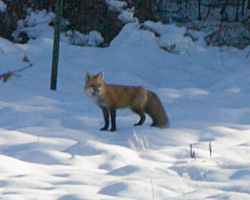 Now, look back at the first photo on this post. This is a zoom-in from that one. See the fox? Yes, It was that far away. The fox was silent. And yet Lily knew it was there, and let me know about it.  This is why, although her barking drives me crazy sometimes, that I don't squelch it altogether. Good girl, Lily!