Many people new to chicken keeping are shocked when a chicken dies. They're used to comparatively long-lived dogs and cats. With a pet, when something goes wrong, there's a vet to hurry to. There's time to nurse the illness. Money is spent. The animal lives. But, chickens, being prey animals, often hide their ailments until it is too late. Or, they sicken and die within 24 hours. If you do call your vet, you'll find out that he/she only treats small animals, or that the avian vet knows parrots, but knows nothing about poultry, or that you can make an appointment and the bill will come to upwards of $200.
I got a call from a woman in town who has a new backyard flock of seven hens. Their favorite, a Jersey Giant, wasn't looking well. The chicken wasn't roosting or eating and looked uncomfortable. I asked a few questions. The owner got back to me. She isolated the hen and kept it warm. An hour later, it was dead. I drove over to check her remaining birds. I brought antibiotics in case the flock had some respiratory ailment.
I arrived to see her two-year old son holding his much loved Belgian d'Uccles Mille Fleur. This is why backyard chicken keepers treat their flock as pets. This hen is as loved as the family dog.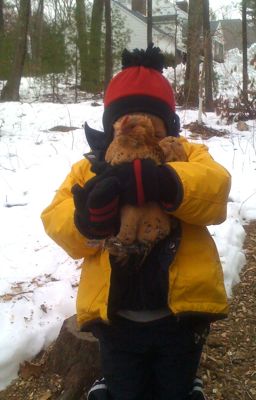 The mother confessed to me, in a hushed, slightly amazed and a tad embarrassed tone, "I didn't know I'd love the chickens so much."
The remaining six hens were as healthy as could be. They were taking dirt baths in an unfrozen corner of a flower bed. They were eating, scratching the ground, and bright eyed. No antibiotics needed. My best guess is that the Jersey Giant, a pullet in her first season of laying, had a bound or broken egg. It's unlikely that the owner could have saved the hen. (It is possible, though. Read about Eleanor.) It'd be useful to know if my guess is right, but a necropsy would have cost the owner $300 (quoted by her vet.) I'm going to take an autopsy workshop at the Poultry Congress. An odd thing to look forward to, but I am.