We flew home from Puerto Rico last night. This is a view of the sky in San Juan at dusk.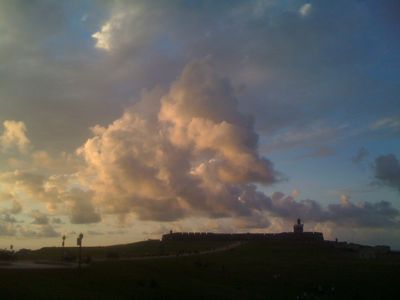 We stayed at a hotel that was originally built as a convent in 1651. A 300-year old nispero tree grows in the courtyard. At night, hundreds of fruit bats swoop around it.
Puerto Rico was HOT and humid. Quite the change from the 11 degree F temp and bitter winds that greeted us in Boston. It was a short 4 nights away from home, but it felt like ages. Lily Dog said that it WAS ages – maybe a few years since she had seen us last.
All of the animals were well-cared for by Luisa, our pet sitter. She was surprised at how much hay the goats waste. Goats don't have a "5-second rule." According to goats, if the hay hits the ground, it's inedible.
The rabbit surprised Luisa by being fine in the biting cold. Candy does love winter weather.
The chickens weathered the cold just fine, as I knew they would.
My family did fine in the tropical heat. We hiked in a rain forest, the boys went body surfing on a day when the red flag (danger, undertow!) was up. We ate very good food. I bought a sunhat.
We're glad to be home. Scooter wants me to take a nap with him. I think I will.