Yesterday we went for our annual apple picking foray. There are some outings that are like touchtones in one's life. This is one for me. My family albums show photos of babies in backpacks reaching for apples, of toddlers climbing ladders, and now, of boys taller than me filling the bag. It was good to go to the orchard with friends, so that once again I have photos of a toddler tightly gripping an apple almost too large for his hands.
Here in New England, it's been a good year for apples.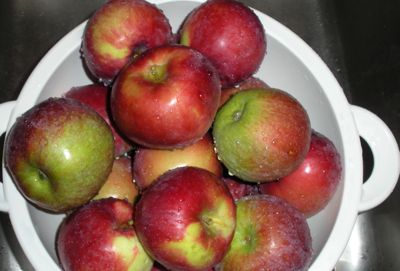 Some years I go too early, and some years too late. But yesterday, all of my favorite apples were ripe and available. Macouns for eating, and cortlands and macintoshes for baking and applesauce. My husband likes honeycrisp, so we got a few of those. Even pears and peaches are in season!
It's a rainy, chilly day today, and so I've spent the morning in the kitchen. Already, I've made a big pot of applesauce, apple bread pudding, and two apple crisps to freeze. Coring, peeling and slicing apples is easy with this old-fashioned gadget. I've just replaced my old and rusted one with this beauty. The blades are so sharp! Apple joy!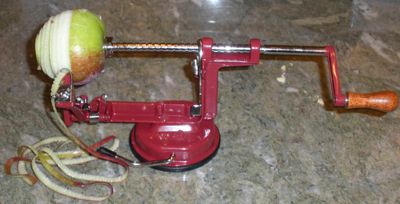 PS HenCam was mentioned in the September 28 issue of The New Yorker. Susan Orlean wrote a piece titled, "The It Bird" about the return of backyard chicken keeping. A few weeks ago, I had the pleasure of talking to her for an hour and half when she was doing the research. In the article she mentions that goats are the next trendy animal. I am so far ahead of the curve!!