I arrived home from Los Angeles last night (morning) at 2 am. It's hot. It's humid. It's gorgeous. In the six days that I've been away, the Rose of Sharon is in full-purple bloom, tomatoes have ripened, green beans have gotten too big, the lawn guys came and edged my beds (it looks so tidy!), the painters repainted the porch ceiling a bright blue, and Lulu is finally no longer broody and has come out of the nesting box.
I'm trying to catch-up. I've sent thank-you notes to the wonderful people in LA who hosted my HenCam party and had me read in their library. Thank-you, too, to Lora for bringing her most wonderful hen, Peckerella, to meet everyone.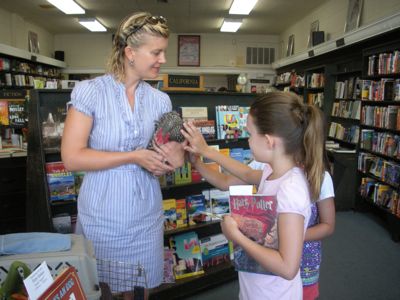 Thanks, too, to my husband for decorating for the HenCam party. (I hope you came!) His thank you is a blueberry dessert that I'm making tonight. Shhh. Don't tell him.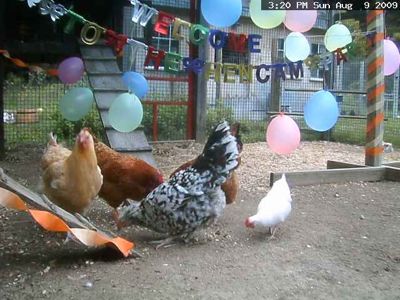 I've also sat with the goats and scratched their heads, said hello to Candy, and scrubbed the hens' waterers. I still have blueberries to pick. But, right now I think I'll take a nap.